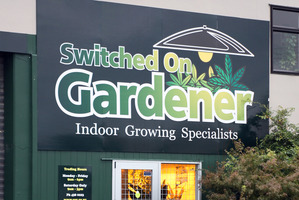 The owner of a hydroponics chain described as an "Aladdin's cave" for cannabis growers has been allowed to travel to Australia over the Christmas break while he awaits sentencing.
Switched on Gardener owner Michael Quinlan - together with the company's general manager Peter Bennett - were found guilty of supplying equipment for the cultivation of cannabis by a jury at the Auckland District Court last week.
They were acquitted of the more serious charge of belonging to an organised criminal group.
Three others - business development manager Ricky Cochrane, distribution manager Andrew Mai and South Island manager Paul Barlow - were acquitted on all charges.
Quinlan was back at court this morning where he was granted permission to travel to Australia.
The Bail Act prevents APNZ from reporting the legal arguments that took place today.
However, last week, after the jurors' verdicts were read out, the Crown opposed bail for Quinlan and Bennett.
Crown prosecutor Gareth Kayes said a sentence of imprisonment was "inevitable".
However, Judge Gus Andree Wiltens granted the pair bail.
"These gentlemen will need to get their affairs in order before sentencing," he said.
They face a maximum sentence of seven years in prison.
Crown lawyer Ross Burns told jurors in his closing address that Switched on Gardener was designed to make money from selling equipment for cannabis, and the employees were encouraged and assisted to commit offences.
Despite staff talking about tomatoes and pumpkins, the company's motif was a stylised cannabis leaf, it sold pro-cannabis literature, bongs, and equipment that enabled customers to grow the drug at home.
Fan filtering systems also allowed growers to hide their illegal operations from their neighbours and passers-by, Mr Burns said.
"All of [the items] can be used for other things. But there is only one thing they can all be used for - to grow and consume marijuana. The way in which the shops were set out, like an Aladin's Cave for the cannabis culture ... no one, no matter how they try to distance themselves from the offending, could have failed to realise what was going on."
Mr Davison said that while Quinlan and Bennett were supporters of legalising cannabis, those beliefs stopped at the front door. "The way the company operated did not permit or allow any illegal activity. There was far too much to lose."
He said if managers had known what was happening on the shop floor, they would have stopped it.
During the nine-week trial, the court heard recorded conversations between undercover agents and Switched On Gardener staff at the firm's 16 shops.
The pair are due to be sentenced in February.
- APNZ