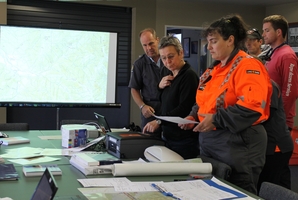 The West Coast search for missing Christchurch tramper Rex Leslie Taylor, 50, has been suspended, after another two-day search failed to yield more clues as to his whereabouts.
A five-man team headed out onto an unnamed ridge between the Explorer Hut and the Mikonui Spur Bivouac on Monday morning, an area where blue tape, which had been linked to Mr Taylor, had previously been found.
However, Sergeant Sean Judd said that after the search ended yesterday, the decision was made to do nothing more unless new information came to light.
"We will suspend actively searching like that, we won't be going back into that area officially, unless we get any more information."
Mr Taylor's family was informed last night of the search being suspended.
Mr Taylor's last known whereabouts were at the Explorer Hut on October 23, where he left a note in the intention book that he intended to be out on October 25.
However, apart from his car, which was located at the end of the Totara Valley Road in early November, and the blue tape wrapped around a knife holder, no other clues as to his location had been found.
Mr Judd said the difficulty of the terrain meant even search teams had not been able to cover the whole ridge, around where the clues had been found.
"We just wanted to focus on that area where the clues were found, we did, no result. But again, it's a massive area, there's even large parts of that ridge we can't even look at due to the steep terrain."
Mr Judd paid tribute to the countless hours of hard work volunteers and search and rescue teams had put in to the search.
"Thank you to all who helped on it. This is an operation that used up well over 1000 hours of land search and rescue volunteers and various volunteers' time, and it was a very good effort on their part.
"They certainly deserve some praise for their efforts over those few days."