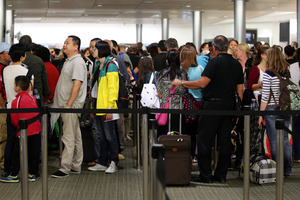 What's your name, where were you born and which country will you next live in for 12 months or more?
These are some of the questions travellers departing New Zealand will no longer need to answer under proposed changes to the passenger departure card.
The review is being undertaken by Statistics New Zealand, Customs and the Ministry of Business, Employment and Innovation as part of a government initiative to streamline international travel.
Other questions to be dropped include overseas port where passengers leave the aircraft or ship and the length of time spent in New Zealand.
Statistics NZ population indicators manager Susan Hollows said proposed changes were a result of a review of information needs and an evaluation of alternative ways to meet these needs.
She said the departure card information was of interest to tourism-related businesses, travel agents and regional and national tourism organisations.
The information was also used as inputs into other statistics, such as the international visitor survey and New Zealand's population estimates and projections.
"International migration statistics are of interest to economists, labour market analysts, the housing construction industry and local councils," Ms Hollows said.
"Statistics on all arriving and departing passengers are of interest to airlines, airports and airport businesses."
Data users and government agencies that use the departure information have been asked for feedback.
A government consultation paper said the reason for removing the questions from the departure card was because the information was available elsewhere.
It is also proposing that passengers will no longer need to sign the cards because "there is no statistical purpose for the signature".
Improvements to the collection of information may include getting passengers to supply data electronically before travel. No changes will be made to the arrival card at this stage.
A final decision as to whether to go ahead with the changes will be made in February next year.
Questions to go
* Nationality, country of birth?
* Family name, given or first names?
* Overseas port where you will leave this aircraft/ship?
* Which country will you next live in?
* How long have you lived or been in New Zealand on this visit?
Source: Statistics New Zealand