League stars help to build cycle tracks in South Auckland schools and parks.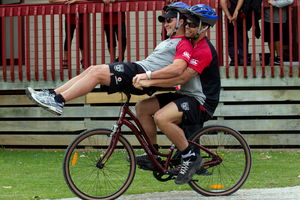 Warriors league stars are swapping rugby balls for bikes and shovels this week to introduce two new bike tracks for South Auckland children.
At East Tamaki School yesterday, 9-year-old Emi Veligitone beat star halfback Shaun Johnson around a short track in the school grounds.
"Kids can have fun on the track," said Emi.
For Johnson the benefit was also clear: "It's exciting for us to come and spend some time on something we know is going to make a difference in this community."
Later all 36 Warriors started three days of work building a new bike track in the Preston Rd Reserve just down the road from the school.
The two tracks, and another due to be finished next month at Ngati Otara Park, are part of a collaborative effort backed by local schools, businesses and charities to improve children's health and future wellbeing.
East Tamaki principal Sarah Mirams started a Garden To Table scheme four years ago and has been trying to secure a bike track since she heard about Prime Minister John Key opening the first school bike track for the Hastings-based Bike On Trust in 2010.
"We have a Garden to Table programme which provides the nutrition side of health. This is going to provide more in the way of exercise and physical activity," she said.
"Quite a number of the children haven't ridden bikes before, we will be the ones who are introducing them to bikes. The bike track will be available every morning tea and lunchtime and there will be class lessons on bike skills and safety."
The Bike On Trust works with donors to provide bikes as well as tracks. East Tamaki Rotary and Variety have each provided 25 bikes for East Tamaki School. Variety, the Warehouse and Avanti are providing 25 for Rongomai School.
Pete McGlashan of Owen Glenn's Glenn Family Foundation, which is investing $8 million in various Otara projects, said 100 bikes would be available for five nearby schools.
Bike On Trust founder Paul McArdle, a Kiwi-born banker who brought his family back home after 12 years in Amsterdam and was shocked to find how few children still biked to school, said bike tracks had been built at 12 schools so far in Hawkes Bay, Auckland, Waiheke Island, Whakatane and Christchurch.
"We haven't found a child who doesn't want to ride a bike," he said.
"What we have found is that not all children have regular access to a bike, so we have created a place to ride within a safe environment."
On the web: www.bikeon.org.nz