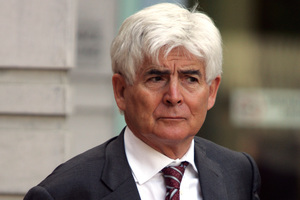 Disgraced lawyer Barry Hart was "vague and evasive" when it came to discussing his fees that included a $1000 an hour charge-out rate, a court has heard.
The 71-year-old criminal defence lawyer has been struck off after being found guilty of three misconduct charges by the Lawyers and Conveyancers Disciplinary Tribunal.
Now he is back at the High Court at Auckland and sitting in the public gallery while his lawyers argue his appeal.
Law Society lawyer Paul Collins said Mr Hart had admitted overcharging because when he promised to repay a client $20,000.
Mr Collins said the client had been charged $1000 an hour while Mr Hart waited for seven hours in North Shore District Court for his matter to be called. The appearance took a few minutes.
"Her evidence was that Mr Hart was always vague and evasive about fees."
Mr Collins said another charge of refusing to disclose a file to the Law Society despite repeated requests provided an insight into Mr Hart's attitude.
"It discloses a person who had put himself outside of legitimate regulation and accountability in his legal practice."
Mr Collins said the tribunal's decision to strike off Mr Hart was done in the interests of protecting the public and Mr Hart had never shown any remorse.
The court has heard how Mr Hart sent in a medical certificate stating he was unable to work, and did not attend his own disciplinary tribunal hearing in July.
The medical certificate was read to the court and said Mr Hart was suffering from a congested nose, a cough and was fatigued after waking in the night with problems breathing.
During a discussion about illnesses yesterday, chief High Court judge Justice Helen Winkelmann asked Mr Collins "So, it has to be something more than a cold?"
Mr Collins said it did, and it had to be something more substantial than stress.
"Any person appearing before a tribunal or a court would have symptoms of stress, and it would be a charter for endless delays to allow this sort of thing to meet the threshold of a miscarriage of justice."
Earlier the court heard from lawyers for Mr Hart who argued that a fee of $35,000, charged to a client, was based on the serious nature of his client's charges.
"It is a question of the seniority of the practitioner - their reputation, their track record in the field and the results obtained," said lawyer Jeremy Bioletti.
He said the tribunal had failed to take that into account, but agreed with Justice Winkelmann that the "nature of the task" should also be considered.
The court has previously heard that on one occasion Mr Hart waited several hours in the District Court for his client's case to be called. His charge-out rate was $1000 an hour.
Mr Bioletti accepted that Mr Hart could have communicated his fees "more clearly" to his client.
"But it is not evidence of some systematic exploitation of vulnerable people."
A senior lawyer and QC told Mr Hart's disciplinary hearing that the work could have been done for between $15,000 and $16,000.
Mr Bioletti accepted that the work could have been done for between $5000 and $10,000 less but the outcome of another lawyer doing the work can never be known.
He said Mr Hart had been "pilloried" in public for overcharging, and did not deserve to be struck off.
The hearing continues.
The judges' decision was reserved and Justice Winkelmann said it was likely to be released in February.
- APNZ