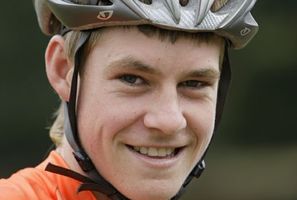 While there were many tears during the celebration of gifted cyclist Patrick Avery's life, there were also plenty of laughs.
On Saturday friends and family shared their memories of a cheeky young man with an infectious grin who couldn't get enough of the outdoors and lived in the moment.
A service to celebrate Patrick Dean Avery's life was held at the Redwood Forest Sails. Close to 1000 people attended.
The Rotorua 21-year-old and national cycling representative died on Tuesday night after falling from his bike during a criterium race.
An emotional tribute was made by his family. Avery's parents, Murray and Maryann, his brother Clinton and his sister Monique each took turns to share their memories of Avery, who was also affectionately known as Paddy or Big P, while struggling to hold back tears. The common theme was they all loved Avery and were proud of him.
In his tribute to his son, Murray Avery told the crowd "this is the hardest thing I've ever had to do".
He shared stories about how his son loved everything about the outdoors, how he would use YouTube not only for entertainment purposes but also to teach himself to surf using a coffee table and how he was looking forward to a great summer with "hot chicks and catching waves".
"He lived for every moment and hated being bored," Murray Avery said.
"If he couldn't do anything outside then we seemed to pay for it."
He said "Patrick loved the outdoors and all it had to offer" and "had an infectious grin".
One of the last conversations Murray Avery had with his son was on Monday when he told his dad he had a good feeling about coming home to Rotorua, how Rotorua was his home and had offered him so much.
"This is so unfair, Paddy you were such a great guy," Murray Avery said.
"It was my pleasure that I've had you as my son.
"I love you with every ounce of my body and your departure has left a very deep hole in me."
The thing Maryann Avery would miss most was her son only giving her five minutes to get ready for a ride in the forest when he had no one else to go with.
She said it was obvious how loved he was and she understood why she was the last resort to ride with.
Monique described Patrick as not only "the best brother in the world", but a cheeky one too.
"He told me it was his mission in life to piss me off and he did a bloody good job."
She also spoke about the friendship between her brother and James Dodds - a mountainbiker who was killed when he was shot while hunting with a friend in September.
Photos of Avery were shown on a big screen. After the service, the casket was carried through a guard of honour to the waiting hearse.
On Saturday morning a tribute ride was held for Avery in the Whakarewarewa Forest. Hundreds of people gathered at the bottom of Nursery Rd to take part and minutes before 9am the crowd split into two groups waiting for Avery's family to ride through and lead the pack.
Organiser Peter Clark said the ride was about celebrating Avery through one of his passions.
"He spent a lot of time in the forest both training and racing and building tracks.
"He also liked the bush for hunting, there was a lot of people here that shared that with him," Mr Clark said.
For more articles from this region, go to Rotorua Daily Post