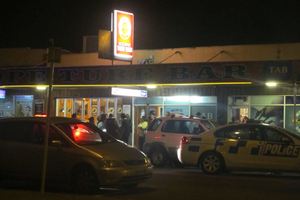 Two men are in court today after "courageous" patrons of a Whakatane bar intervened and stopped an armed robbery attempt last night.
Just before 10pm, a 23-year-old man entered the Kope Turf Bar in Whakatane and demanded cash from a female staff member. The second man, armed with what was described as a sawn-off shotgun, stood at the door, witnesses said.
Patrons swarmed behind the bar to help stop the man and, while doing so, managed to land a few punches on him. The armed man rushed in and yelled at patrons to "get back or I will shoot".
Most people at the bar stepped away from the first man, but one managed to grab a pool cue and smacked the armed man in the back of the head with it. Another man threw his pool cue at one of the alleged offenders.
One of the men managed to break away and flee the bar, only to be arrested at a Whakatane address early this morning.
The other offender was arrested inside the bar, where the firearm was also recovered by police.
When police arrived the man was being held by bar security and patrons. People could be heard telling the alleged offender that this was "their" bar and that no one would be robbing it while they were there.
Both men and at least one of the patrons suffered minor injuries during the struggle.
"We would firmly discourage members of the public from putting themselves at risk by tackling offenders, particularly when they are armed, but that doesn't take away from the fact that these patrons were incredibly courageous and they should be proud that they stood up for their community," said Inspector Sandra Venables.
Both men will appear in Whakatane District Court later today on charges of assault with intent to rob.
- nzherald.co.nz and The Daily Post