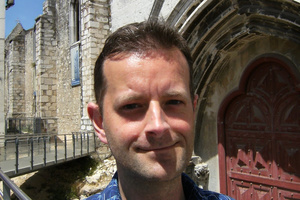 A Wellington journalist was seen leaving his work smiling and happy before he was killed just moments later on his walk home, a court has been told.
Phil Cottrell was left unconscious with broken bones and a shattered skull in central Wellington last year.
The 43-year-old, who suffered from a brittle bone disease, was found by a taxi driver on Boulcott Street early on December 10.
He died from his injuries in hospital the next day.
Nicho Waipuka, 20, and Manuel Robinson, 18, are on trial for his murder in the High Court at Wellington.
The Crown says they attacked Mr Cottrell on Boulcott St as he walked home from his overnight shift as a bulletins editor at Radio New Zealand.
A co-worker, Colette Jansen, today described to the jury seeing Mr Cottrell as she was arriving at work about 5.30am as he was leaving.
They greeted each other by the elevators.
"He was really cherry, really happy. He had a big smile on his face, he had a twinkle in his eye,'' she said.
Another witness has described to a court an aggressive encounter with a man hours before the Wellington journalist was killed
Early on the morning of the attack, about 2am, Russell and Kelly Carter, who were staying at the James Cook Hotel, were walking back from a Christmas party and evening in town.
As they approached the hotel, Mr Carter saw a man standing still on the footpath, wearing sunglasses and putting on gloves.
"I actually thought he was going to start dancing and I was going to say 'Go for it, it's Christmas'.''
The couple walked around him and to a side entrance of the building where they were approached by a shorter man walking slowly towards them.
"He said `what the f*** are you looking at' five or six times.''
Mr Carter said his arms were open wide in an aggressive manner.
"I thought I might end up in an altercation with him.''
However, his wife pulled him away and the couple went into the hotel.
Yesterday Dominion Post systems engineer Phillip Barton gave evidence that he was leaving the car park opposite his work about 5.30am when he noticed two men in baseball caps walking up the street.
The taller man called out to him in a raised voice, saying: "What the f*** are you looking at?''
Mr Barton said it was meant "threateningly'' but he did not take it in straight away.
As he crossed the street, Mr Barton said the taller man was "glancing back at me with a glare ... almost egging me on to say something''.
Evidence was also given today by ANZ fraud investigator Maureen Beaver that Waipuka's bank account was unsuccessfully accessed three times just after 5am on the morning of the attack.
Each time there were insufficient funds in the account.
Ms Beaver also said Mr Cottrell's account was unsuccessfully accessed three times later that morning at the Wellington Railway Station, but an incorrect pin was entered each time.
Later that day Mr Cottrell's wallet and visa card were found in a rubbish bin and handed to staff.
Also in court today, details were given of closed circuit television footage showing Robinson moments before Mr Cottrell was attacked.
Detective Constable Anna-lise Ferguson, who studied camera footage, said CCTV cameras fixed to the Telecom building on Boulcott Street captured Mr Cottrell's image at 5.36.02am.
Twenty-eight seconds later, Robinson was seen on the same camera on the other side of the road and about eight seconds after that, Waipuka followed him.
An associate of the accused, Anthony Perry told the jury he had dropped the pair at the James Cook Hotel very early on the day of December 10 - about 1am - so they could visit a girl.
He arranged to pick them up later, but when he returned, there was no sign of the accused.
Mr Perry said he waited for about an hour and a half and texted them about 20 times, but they never turned up.

Mike Antunovic, who appears for Robinson, said his client had nothing to do with the attack on Mr Cottrell, and he was on the other side of the road at the time.
Mr Paino, who represents Waipuka, said while his client admits to punching Mr Cottrell once in the jaw, he had no murderous intent.
Nearly 70 witnesses will be called during the trial, which is set down for two weeks before Justice Forrest Miller and a jury of seven women and five men.
- APNZ