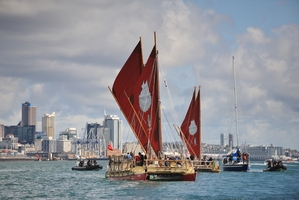 Two New Zealand waka are due to arrive at Easter Island tomorrow after an epic three-month voyage across the Pacific using only traditional navigation techniques.
On board one of the waka, Te Aurere, will be 80-year-old master waka builder Hekenukumai "Hec" Busby from the Far North.
Mr Busby, who is credited with reviving the lost arts of traditional Polynesian navigation and building ocean-going waka, built both vessels at his workshop in Doubtless Bay.
Although he could not take part in the whole 5000-nautical-mile journey, he is due to arrive on Easter Island by plane today, and will then be taken to the waka by boat. The waka are due to make landfall tomorrow.
Te Aurere and Ngahiraka Mai Tawhiti left Auckland in August in an attempt to sail the southeastern side of the Polynesian triangle. The other sides of the triangle - from Aotearoa to Hawaii, and Hawaii to Rapanui (Easter Island) - have already been sailed by ocean-going waka hourua.
The waka made only two stops, at Tubuai and Mangareva, both in French Polynesia, and navigated using the sun, stars, moon, currents and marine life.
The sailors first sighted Rapanui at 1.34am on Thursday (Easter Island time) after more than three months at sea.
Karl Johnstone, director of the NZ Maori Arts and Crafts Institute, said it was fitting that Mr Busby would be on board as the waka arrived.
"This journey has been Hector's dream. His skills and knowledge of traditional navigation techniques are unsurpassed and it is only fitting he should be there to experience the joy of this accomplishment."
Mr Johnstone said it would be "incredibly moving" to see the waka sail into Rapanui, knowing the journey had been 20 years in the making and had helped forge cultural, scientific and academic bonds across the Pacific.
Chief navigator Jack Thatcher said spirits were high as the crews neared their destination.
"Everybody on board is buzzing and can't wait to get to Rapanui. It's a surreal feeling," he said.
The 20 sailors will rest for a week before travelling to Tahiti where the waka will lay over for the cyclone season. Most of the crew will fly home then return in April to sail back to Auckland.
Waka Tapu ("sacred canoe") was organised by the Maori Arts and Crafts Institute in Rotorua and Northland's Te Taitokerau Tarai Waka.
For more articles from this region, go to Northern Advocate