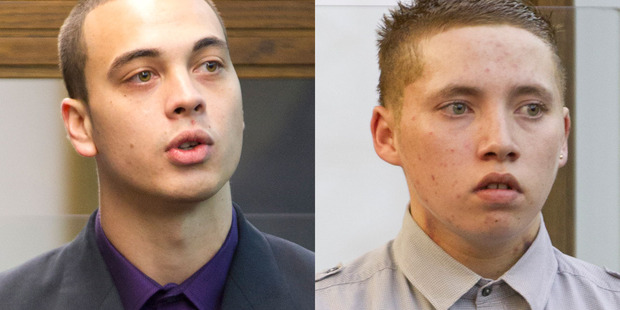 Ambulance staff thought a badly beaten Wellington journalist had fallen over and struck his head until the discovery of his fractured arm made them suspect something more sinister.
Phil Cottrell, 43, died from serious brain injuries the day after he was was found lying by a small pool of blood in Boulcott St in central Wellington on December 10 last year.
Nicho Waipuka, 20, and Manuel Robinson, 18, were charged with his murder and went on trial in the High Court at Wellington today .
The jury was told Mr Cottrell's skull shattered into 20 pieces when he was assaulted as he walked home from his overnight shift at Radio New Zealand.
Mr Cottrell suffered from osteogenesis imperfecta, a genetic disorder which made his bones brittle and more prone to fractures.
Caroline Marshall, the paramedic who first tended to Mr Cottrell, gave evidence that she did not initially realise he had been assaulted.
"I thought that the patient had just simply fallen over and sustained a head injury."
But when she noticed his left arm was "bent in a way that was not normal" she alerted the ambulance communications centre that he had been assaulted.
She said Mr Cottrell had been found lying on his side, "half-way into the foetal position" with his head by a small pool of blood.
Ms Marshall said it was obvious he had suffered a head injury.
His eyes were swollen and although he was breathing, he was in a critical condition.
"He wasn't alert and orientated without me touching him."
Wellington Hospital intensive care doctor Alexander Psirdes said in a statement that Mr Cottrell deteriorated quickly at the hospital.
He was transferred to an operating theatre, where a surgeon removed bone fragments and section of skull to relieve pressure on his brain.
A scan showed he had suffered multiple fractures to his skull, from the top to bottom, as well as to his neck, eye sockets and arm.
Despite the surgery, Mr Cottrell's eyes remained dilated and did not respond to light, indicating his injuries were not survivable.
Mr Cottrell died shortly before 4pm the next day, after his family agreed to remove his ventilator.
Earlier today, Crown Prosecutor Tom Gilbert told the jury of seven women and five men the accused were in town on the morning of the murder, acting aggressively to anyone they came upon.
Just after 5.30am, the pair came upon Mr Cottrell on Boulcott St.
Mr Gilbert said both men attacked Mr Cottrell, fracturing his neck and head and breaking his arm.
"He was left unconscious with his skull shattered in 20 pieces and a bleeding brain."
He said Mr Cottrell was a victim of a "deliberate act of random violence".
Later, both men bragged about punching and kicking a person, Mr Gilbert said.
Robinson was arrested three days later at the Youth Court where he was with an acquaintance. A police officer recognised him from CCTV images that had been circulated among police.
Waipuka was arrested the following day.
Paul Paino, appearing for Waipuka, said his client had "no murderous intent" on the night Mr Cottrell was attacked. He said Waipuka admitted to punching Mr Cottrell once and stealing his wallet before running away.
"Anything he may have bragged about later was bravado," he said.
Mike Antunovic, who appeared for Robinson, said his client was not involved in the attack on Mr Cottrell at all.
"He had no involvement whatsoever," he said.
Robinson was on the other side of the street at the time.
Mr Antunovic said Robinson was not guilty of either murder or manslaughter.
The jury will tomorrow view CCTV footage of Waipuka allegedly trying to unsuccessfully withdraw cash using Mr Cottrell's bank card at an ATM at Wellington Railway Station.
Mr Cottrell's sister, Susan Hollows, will also give evidence tomorrow.
Nearly 70 witnesses will be called during the trial, which is set down for two weeks.
- APNZ