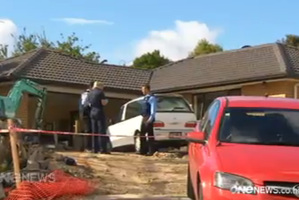 A recovering family of five hospitalised after their house filled with petrol generator fumes say the ordeal was like a scene from a horror movie.
The group was found semi-conscious inside the West Auckland bungalow by emergency services in the early hours of Monday.
The two adults and their three children, aged 29, 14 and 9, were rushed to North Shore and Waitakere hospitals suffering from carbon monoxide poisoning. Three were later given oxygen treatment in a hyperbaric chamber at the Devonport naval base.
Sitting in the living room where the nightmare unfolded, the mother spoke to the Herald on Sunday to warn others about the dangers of using such generators indoors.
Still clearly shaken, she asked to not be identified.
The family had only just moved into the new-build home, she said.
They had put a petrol generator in the garage attached to the house because mains power could not be connected until the Monday.
"It was very lucky that we were all out until late on Sunday night and the generator was only switched on for a few hours before we were going to go to bed," the mum said. "If we had gone to sleep I am convinced none of us would have woken up." The woman, a business owner originally from Fiji, said she at first thought the family had been struck down with food poisoning. "Within a short space of time we were all vomiting and were very disoriented.
"I was crawling around on my hands and knees trying to stay conscious. I kept thinking I had to stay awake to save my family and I don't know where I got the strength from.
"One of my daughters was rolling around screaming and it was like something out of a horror movie. We were all very confused and terrified." The mum had the presence of mind to force her ill husband to phone a nearby family friend for help.
"I crawled to the door and managed to open it. The next thing I remember was waking up outside surrounded by police and ambulance people. The emergency services could not have been better.
"We are all recovering but it will be several days before we are back to anything like normal," she said.
"I never want to see any other family go through what we did. We had no idea petrol generators could be so dangerous. They really can be a killer."