One 7-year-old boy thought all his Christmases had come at once when he met 75 merry men.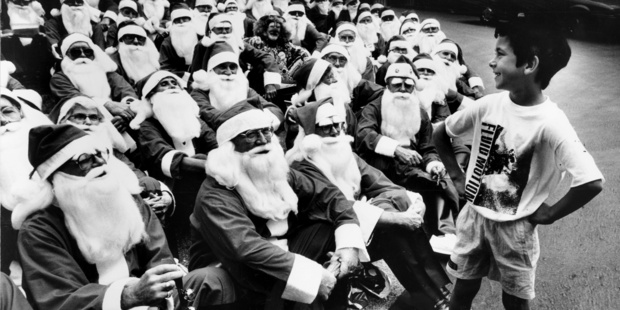 Cheeky youngster Wade Atiga quickly recovered from the surprise of seeing 75 Santas at the entrance to the Sheraton Hotel 23 years ago.
"After getting over the shock, I thought, 'That'll mean more presents'," he says.
Now aged 30, Atiga has pretty good recollections of when the large troop of Santas descended on Auckland. They were part of a community service organisation called the Telephone Pioneers of America, comprising active and retired telephone workers.
"I can remember that I was wearing green shorts," Atiga says. "I was there with my brother, because he was disabled, for a charity lunch that had been arranged.
"We got there late and I was left in a big lounge for a while. Then someone came and got me and asked me to stand and look at the Santas for the photo."
Atiga says he attended many events with his brother Jared, who sustained a head injury in a fall when he was 2.
Jared, now 28, lives with assistance in Pukekohe.
Wade meanwhile, has returned recently to Auckland after living in Hokitika. His 3-year-old daughter, Kiera, needs constant care after being diagnosed with a "one in 10 million" case of a neurological condition called Opsoclonus Myoclonus syndrome. Kiera needs monthly blood transfusions and has mild chemotherapy treatment once a week.
Studies suggest chances of survival are good but there may be lasting consequences to her joints, skin, kidneys, lungs, heart, nervous system or blood vessels.
The Telephone Pioneers of America, one of the largest industry-based volunteer organisations in the world, celebrated its centenary last year and continues its mission to help the disabled and foster literacy.
Wade works shifts as a fuel tanker driver and, if he could have his time with the Santas again, he would wish for help for his daughter.
"It's funny, but I was thinking about that just the other day," he says.
"People asked me about the Santas for a bit after the photo appeared in the paper but it's a long time ago now. I haven't seen the picture for a while."