Bragging rights up for grabs as athletes take to the ocean.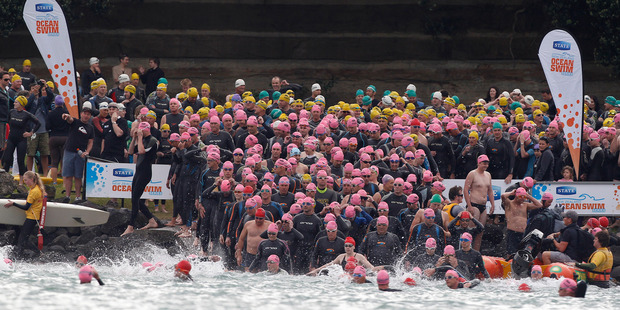 Thousands of athletes have been training for the State Harbour Crossing in Auckland and tomorrow it's time to put that hard work to the test.
The 2.9km "I'm going Long" swim is the only option on the day. It is not a distance you can just expect to turn up, put on your wetsuit and complete with ease. It is for individuals with swimming experience who have trained to do a marathon swim.
From its inauguration in 2004, when the swim kicked off from Stanley Bay to the Viaduct's Market Square, to the new course from Bayswater's Quinton Park to Karanga Plaza in the Viaduct Harbour, it has become one of the largest and most iconic ocean swims in New Zealand.
The event reached the sellout number of 1500 entries some time ago but this week an additional 100 entries were released and quickly snapped up.
The swim is split into five waves, putting swimmers with similar abilities together, seeded by their anticipated times.
This is the ninth year of the Crossing, which gives swimmers their annual fix of stopping marine traffic and the ability to say: "I've swum across Auckland Harbour".
Entering a competitive swimming event has been on the mind of Auckland psychologist Dr Margaret Roberts for some time.
"I started training but then didn't enter, and it became something I almost did, which is nowhere near as good a story as having done it," said Dr Roberts.
This season she has entered the State Beach Series at Takapuna Beach and the State New Zealand Ocean Swim Series.
Swimming helps her to keep active and reduce the pain and physical limitations of scoliosis (an abnormal curving of the spine), for which she has had two major surgeries to insert four titanium rods in her spine.
"I thought that this series would be a good way to get used to the different conditions of ocean swimming as well as the practical aspects of registering, starting, navigating, pacing, and swimming in a group."
The events that Roberts has completed so far have given her the confidence to continue on her quest to improve her open-water technique and to develop confidence as an open-water swimmer.
For others athletes who are taking up ocean swimming as part of their rehabilitation, Roberts recommends focusing on the abilities that they have, rather than comparing themselves to others who don't have the same physical conditions.
"Balance challenging yourself with rest and rehabilitation. It can be a trial and error process, but make a general plan and stick with it. Most of all have fun."
One man who knows all about challenging himself and has plenty of fun swimming throughout his life is Sid Salek. The 82-year-old from the Bay of Plenty will be among the many out-of-Aucklanders travelling to the City of Sails for the event.
He has been involved in every season of the State New Zealand Ocean Swim Series for the past nine years and fondly recalls his first Harbour Crossing of Wellington Harbour about 60 years ago.
"Age is no barrier," said Salek. "It's not the body. It's the mind that's the barrier to achieving goals like swimming across Auckland Harbour."
He celebrated his 80th birthday in 2010 by completing the State Sand to Surf Swim with support from his grandson Loui Salek.
Sid has no plans to stop swimming anytime soon.
At the other end of the age bracket, there are plenty of young families looking to have fun and, of course, compete.
The four Paterson teenagers are a very competitive bunch, playing numerous sports nationally and internationally - and that's all before the oldest has reached 18. The fighting-fit foursome love swimming and will be competing for bragging rights around the dining table.
Between Roana, 17, and her brothers, 15-year-old twins Connor and Liam and younger brother Nick 12, the family have an impressive number of titles in sports including water polo, basketball and competitive swimming.
Dad Simon said: "Often they are up at 5am and not home until 10 at night with all the training they do and it's a full-time job running them around everywhere. We have a logistics meeting every Sunday to plan who is going where in the week ahead."
Scott Rice, the State NZ Ocean Swim Series event director, said the Patersons' effort was impressive.
"It's great to see families like the Patersons swimming together - that's what this series is all about."

Crossing part of gruelling journey
It's a day Ryan Pearce has been working towards for 12 months.
The 29-year-old Christchurch teacher has gone from a wheelchair to a wetsuit and credits his goal to take part in tomorrow's Harbour Crossing as the motivation he needed.
Pearce teaches Year 5 and 7 students at one of three Christchurch schools to be merged, South New Brighton, and when he impresses upon his students the importance of goal-setting he speaks from the heart, recounting his own difficult journey over the past 12 months.
Late last year he had surgery for a spinal AVM - which in non-medical terms means a varicose vein on the spinal cord. If left untreated it would have squeezed his spinal cord to the point where it would have cut it.
But in a remarkable turnaround he is fighting fit and ready for the 2.9km swim. He stopped short of calling it a miracle recovery.
"It is not a miracle," said Pearce. "A lot of hard work has got me in this position where I am able to swim this.
"I never saw the wheelchair as the end. When I couldn't feel my legs to cope I prepared for the worst and hoped for the best and to be here is really rewarding. I never accepted that I wouldn't be."
Pearce said the goal to swim the crossing has been hugely important.
"That goal has really motivated me in my recovery and has already delivered huge benefits both physically and psychologically.
"My family and friends are proud that I have gone from being unable to walk to the point where I am taking on a challenge that most able-bodied people would find tough."
Sport has always been a huge part of Ryan's life and so the 10 weeks he was reliant on a wheelchair for his mobility were very challenging.
He is not yet fully recovered but can now move with the help of a stick.
The thing he is most worried about is getting in and out of the water.
"The swimming will be fine. I have done the training and I am ready, but I just need to some help with my entry and exit.
"A lot of people have been worried for me ... But I have been living this every day and I know my body and that I can do it. It is much harder for your support people as they ... just have to watch."
It has also been a big challenge for him to find somewhere to train.
There are no 50m pools in Christchurch so in winter he has had to swim 120 lengths of a 25m pool to complete a 3km swim.
Pearce still relies on a brace for his right foot and has limited mobility so is a long way from competing in triathlons again, an ultimate goal.
Between 1997 and 2000 he was in the NZ Junior Triathlon team and had also been a competitive swimmer.
Event director Scott Rice said Pearce's effort to be part of one of NZ's toughest swims was inspiring.
"This series is about encouraging people to give it a go. There are not many better role models than swimmers like Ryan who has literally gone from a wheelchair to a wetsuit in a relatively short space of time.
"I look forward to watching him cross the finish line."
But not as much as Pearce does. He will be surrounded by his family and friends from all over NZ.
"It is going to be emotional. I have conned my brother [Daniel, 27] into swimming it with me. I think it is going to be a life-changing moment for me. I have told too many people to not get there and I cannot wait to share that moment with my friends and family."
His advice for people with a disability struggling to get into sport: "Find something that to work towards. The power of a goal is quite amazing ... Don't just say 'I want to get better' because that is an indefinite goal and you don't know how to measure that and know if you are making progress."

Harbour Crossing
When: Tomorrow
Where: Quinton Park Bayswater to Viaduct Harbour, Auckland City
Event options: 2.9km (I'm Going Long)
For more information visit: www.oceanswim.co.nz
Registrations are now closed for this event