Cheaper online music has been the death knell for six longtime staff with decades of passion and knowledge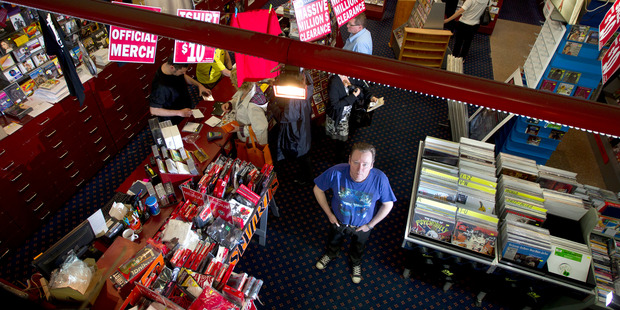 The longtime staff at Marbecks Megastore didn't hesitate when asked what music will be played when the door shuts for the last time.
"It'll be Closing Time. Leonard Cohen's version, or Tom Waits'. We will probably get into a fist fight over which one," says Roger Liddle, faithful servant of customer, employer and the music for 25 years.
And that is Marbecks - music, knowledge, passion, service - and going out of business after 78 years.
"It's been my life, it has," says Liddle, as it has for his colleagues and for the Marbeck family.
Alfie Marbeck set up a shop in 1935 in a store that featured a grand piano and a gramophone and sold vinyl and sheet music. His son Murray took over as, in turn, did his son, Roger.
It was a business and it was a joy and it was almost like family. Liddle recalls shedding tears with the late Murray Marbeck after the company was sold in 2006 to non-Marbeck owners.
Each of the staff has a specialty. Liddle knows all about blues and country, Bryan Clifford, with 26 years' service, is the Indy music expert, Brent Cardy, 12 years, is the man for music from New Zealand and the 70s; Jim Halligan, 12 years, is Mr Hip-hop, and Neil McGowan, eight years, can answer your questions about world indigenous music, while classical specialist Mel Moratti has been with Marbecks for 12 years and music retail for five decades.
Come in with the vaguest notion and one or other will see you right. Gregorian chants? Indeed, you'll find a few albums over in the religious music section.
Liddle and Clifford are just as passionate about music as they were a quarter of a decade ago. Both are apprehensive about their futures in an age when price is king and knowledge undervalued.
Increasingly music is delivered digitally online. Shops trim costs to survive. But, says Liddle, they can't tell you which Bryan Adams album is best. At Marbecks, they know and will tell. "We didn't have to bullshit," says Liddle. 'We didn't have to talk a product up."
Clifford relays a story a customer told of having asked at a cut-price store for music by Leonard Cohen. The assistant didn't know the name but had heard of Bob Dylan. "Isn't he Australian?" she'd asked. Clifford calls it "the McDonald's-isation of retailing". "Everything is exactly the same." And thereby something quite special is lost. At Marbecks you could feel the love. "I don't think people will feel that way about going to the Warehouse," says Clifford, who counts many of his customers as friends.
"Retail doesn't pay that much," he says. "We do it because we love the product." There is Farmers and then there is Smith and Caughey. "I remember Roger Marbeck saying, 'I want this place to be the Smith and Caughey of music retail'. I think we achieved that."
If little else, the name will go on in Auckland in the form of Marbecks Kitchen, a music-themed cafe at another location. And there are six Marbecks music stores left elsewhere in the country.
Meantime, a closing-down sale is under way at Marbecks Megastore in the Queen's Arcade, off Queen St, where wisdom and passion come with the territory.
Be quick because come March, it is closing time for a city icon.
These lyrics are from the version by American alternative rock band Semisonic. Marbecks stock all versions, of course.
So gather up your jackets, and move it to the exits
I hope you have found a friend.
Closing time
Every new beginning comes from some other beginning's end.