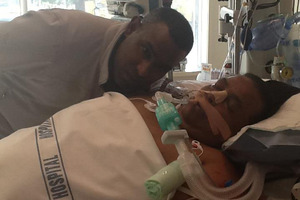 The family of a Fijian grandmother whose Auckland hospital care is expected to cost more than $100,000 say they are determined to keep her alive.
Vijay Kumari, 58, collapsed from a major heart attack only a few hours after arriving in Auckland last week to stay with her family who are New Zealand citizens.
Ms Kumari, who is a Fijian citizen and had no travel insurance, has spent the last 10 days in the hospital's intensive care unit.
Her medical care is costing the family about $6300 a day but her daughter, Sandy Naidu, says she can not bring herself to turn off her mother's life support.
Ms Naidu has already received a bill of $86,000 for her mother's first week of care and there is no certainty about when Ms Kumari will recover.
"I did not have the heart to say 'turn off the life support on mum'," Ms Naidu said.
"She is only 58 years old. Four years ago dad passed away suddenly. I've been very positive about [her recovery]. I have to."
Ms Kumari opened her eyes when her daughter visited her yesterday.
"She opened her eyes and looked at me and when she did there were tears rolling down her face," Ms Naidu said.
"Straight away I knew she was coming back. I can't give up on her after I visited her yesterday."
Ms Naidu said not paying for her mother's travel insurance was the result of a "mindblock" when she booked the last-minute flights for her visit.
"Travel insurance just never crossed my mind," she said. "It's just so unfortunate."
Now Ms Naidu, who works as a resthome carer, and her prison officer husband Ashik Chand are working extra shifts to help meet costs.
They re-mortgaged their home last year and are now planning to sell their car to help contribute to the growing list of bills.
"I don't know [how I'm going to afford it], but I will say I truly won't stop," Ms Naidu said.
"Me saying I can't afford the bill is like me giving up on my mum's treatment. I'm positive. Mum's only 58 and the doctors aren't giving up on her and I don't have the heart of giving up on her either."
- APNZ