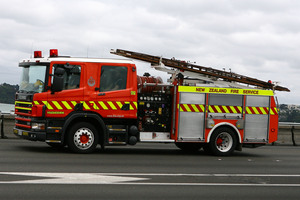 A man had a lucky escape after a damaged extension lead sparked a fire which gutted an Addington flat kitchen.
Fire Service risk management officer Shane O'Brien said a man was woken about 8am yesterday after he heard a bang and glass breaking in the Ruskin St two bedroom flat.
"The extension lead cord caused the fire. It had a number of electrical appliances plugged into it and it was placed under a carpet mat. It had been damaged by people walking on top of it, which had caused the wires to fray over time," he said.
Mr O'Brien said the kitchen was destroyed and the rest of the flat suffered extensive heat and smoke damage.
It was the second kitchen destroyed by fire in Christchurch yesterday morning.
About 9am, a benchtop oven caught fire at a Bampton St house in Dallington after it was left on.
"Both houses had smoke alarms which weren't working. If there had been smoke alarms working, the damage may not have been as bad as it was. Smoke alarms are important," he said.