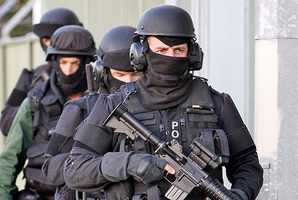 Selwyn Ridge School was in lock down this afternoon after armed police cordoned off areas of Welcome Bay.
It is believed police told the school to go into lock down about 2.30pm, which is when students are usually released for the day.
The school was gathered in the hall but the children have just been allowed to leave the hall, according to the school's after school service, YMCA.
An eyewitness to the police operation in Welcome Bay saw armed police enter a house, put several men on the ground and point a gun at them.
The drama unfolded just after midday today at a Greerton address, suspected to be connected to a P lab.
Armed police, ambulance and fire services were involved. It is believed that a hazardous material unit was also at the scene.
Police blocked off a section between Waitaha Road and James Cook Drive and traffic was being diverted.
The sister of a person who lives in the neighbouring house told the Bay of Plenty Times she received a call from the occupant telling her the road was cordoned off, that she had seen police enter a house, put some men on the ground, and point guns at them.
A reporter at the scene said the majority of police had now left but there are still half a dozen police officers there.
The road re-opened shortly after 2.30pm.
For more articles from this region, go to Bay of Plenty Times