Principal disappointed 175 teachers would have to re-apply for 140 jobs and re-train for up to two years.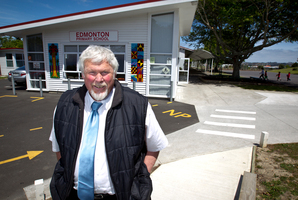 Twice a week, hundreds of autistic, disabled or intellectually impaired schoolchildren are taken out of their classrooms and given one-on-one tuition for an hour.
The 175 teachers who run this service are credited with transforming the lives of many special-needs children who cannot survive in mainstream classrooms.
"As far as we're concerned, these folk walk on water," Edmonton Primary School principal John Carrodus said. "They really move these kids forward."
But the $13 million service, known as Supplementary Learning and Support (SLS), will soon be no more. It will be absorbed into a larger scheme at the end of the year in what parents and teachers say is one of a raft of troubling changes for special education in New Zealand.
Mr Carrodus was disappointed that specialist teachers would have to reapply for their jobs in the merger. He also felt it was cruel to change a service which had allowed many children to thrive. "It's like pulling the wings off a butterfly."
The SLS programme helped 1500 New Zealand children with significant learning difficulties.
One of these children, 10-year-old Briana Ineson, could barely speak on her first day at school.
"She cried a lot simply because she couldn't understand," her mother Joanne said. "If I asked her what happened I could understand a little bit of what she was trying to tell me, but it was just a garbled mumble."
Briana, from South Auckland, was found to have high learning needs and was developing two years behind her peers. Five years on, she was a different person. Her turnaround was credited to the intensive, one-on-one teaching.
"The biggest thing I can't believe is how much confidence she has," Ms Ineson said. "Every single day she skips to school and has the best time of her life there. She participates in everything."
Special education in New Zealand is in a transition period. Two specialised schools in Nelson and Christchurch are to be closed, five special needs units at mainstream schools face closure, and more than 150 special education teachers are concerned about their future.
The changes were the result of a review in 2010 led by former Association Education Minister Heather Roy. Ms Roy's policy rethink placed much greater emphasis on mainstream schools doing more for special education students. But some educators felt the changes amounted to a one-size-fits-all resolution that did not suit the complex needs of special education students.
At present, 3 per cent of the school-aged population were believed to have severe learning difficulties.
The highest level of support available, the Ongoing Resourcing Scheme (ORS), was limited to around 1 per cent of the school population.
Thousands of children failed to reach the ORS threshold and had to apply for local-level schemes.
High-needs students could get one-on-one teaching sessions through the SLS service, and moderate-needs students could get help from special education aides (the Resource Teacher: Learning and Behaviour service or RTLB).
The SLS scheme will be merged into the RTLB scheme next year, after a Ministry of Education review found having two separate sources of specialist teachers was too fragmented.
May Rd principal Lynda Stuart feared the crucial one-on-one support would disappear in the merger.
"These high-needs children find it difficult to access the curriculum in a mainstream class. They need that extra support when teachers have 28 other children in the classroom.
"No one is averse to change. But what I see is that these kids are going to miss out."
The ministry's special education spokesman Brian Coffey said critics should not be worried. "We will be particularly vigilant that all of those children that have been getting this service this year and eligible for the service in the next year will get that support."
But the merger had created uncertainty among parents. They were concerned about continuity in their children's education, not least because the SLS teachers who had worked with their kids might not get jobs in the new scheme.
At present, 175 SLS teachers would have to reapply for around 140 jobs on the open market, some of them non-teaching roles. They would also have to retrain in their new roles for up to two years.
An SLS teacher told the Herald the reshuffle was a "kick in the guts".
Mr Coffey said it was difficult to say how many of the SLS teachers would get a job in the new merger.
A group, which protested at Parliament against the changes to special education last month, argued that all the sector's problems could be solved if ORS funding was raised from 1 per cent of schoolchildren to 2 per cent.
Mr Coffey responded to this proposal: "To get to 2 per cent, it's really difficult because then there will be another group of kids who just miss out."
It was also a costly idea - ORS funding already made up a quarter of the annual special education budget of $510 million.
Green Party disability issues spokeswoman Mojo Mathers, who is profoundly deaf, said a specialist teacher transformed her life. She argued that the cost of educating high-needs children was insignificant compared to the delayed cost of caring for them as adults.
"If you don't provide the service in education, the cost is still borne, and is usually greater because it comes out of the health budget.
"The number of people in our prisons with autism, with learning difficulties, are so high because they haven't been looked after in school."
The changes 2012-13
Main points
* Merging of specialist teacher schemes.
* 175 special education teachers forced to reapply for jobs.
* Closure of residential special schools - Salisbury School in Nelson and McKenzie Residential School in Christchurch.
* Possible closure of five special needs units in mainstream schools.
Demand for special education
* Severe learning needs: 20,000 children (3% of student population).
* Moderate to high level needs: 40,000-60,000 children (4% of student population).
* Early childhood: 12,500 children (5% of children aged 5 to 12 years).

What help can high-needs children get?
Ongoing resourcing schemes
($136 million/year in state funding)
* For students with complex or severe learning difficulties, such as severe hearing, vision or physical impairment, severe intellectual disability, or a severe disorder of both language use and social communication such as autism.
* Funding available to 1% of student population, highly contested.
* Students get additional teaching time, extra resources, specialist programmes, and a teacher aide to help in mainstream classroom activities.
Resource teachers: learning and behaviour
($68 million/year)
* Specialist support for mainstream teachers who have children with moderate learning difficulties.
Supplementary learning and support
($13 million/year)
* For students with high needs who do not qualify for ORS funding.
* Designed for children functioning below Level 1 in the curriculum.
* 150 itinerant teachers give twice-weekly, one-on-one support to 1500 students nationwide.
* To be merged into a larger scheme in 2013.
Special grants
*Students can apply for specialised support such as transport, school modifications, speech therapy or correspondence resources.