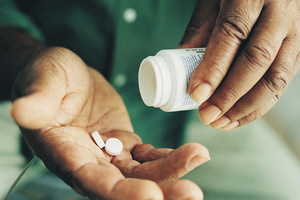 A man who overdosed on oxycodone was found dead after he failed to turn up to a dinner his friends were holding "to cheer him up", a coroner has found.
Forty-year-old Vito Vari was found dead at his Nelson home on August 2 last year, after his friends became concerned.
The group said they had seen their friend earlier in the day, when he seemed to be under the influence of drugs.
While this was not unusual for Vari - a known drug user - in the days prior he had seemed unhappy and not himself, Coroner Carla na Nagara said.
"One of the reasons he had been invited for dinner was to cheer him up."
After arriving at Vari's Collingwood St flat to see if he was all right, the group sounded their car horn, believing he was asleep and hoping to wake him.
Receiving no response and seeing the house was locked with the key in the door, they then forced open a window and went inside.
Vari was found dead in the hallway outside the bathroom with two syringes on the floor nearby.
A post mortem examination found his cause of death to be oxycodone poisoning.
The level of 0.6mg/L found in his blood was consistent with levels associated with overdose fatalities from the painkiller, the report said.
Oxycodone is a narcotic analgesic about as powerful as morphine.
Diazepam and clonazepam were also found in his system, adding to the central nervous system depressant action of the oxycodone.
The presence of the syringes indicated Vari had taken the drug intravenously, na Nagara said.
"I find that Mr Vari's death was the result of an unintended, fatal dose of oxycodone, the central nervous system depressant effects of which would have been exacerbated by the diazepam and clonazepam that he had also taken," Coroner na Nagara concluded.
"It was not a suicide."
- nzherald.co.nz