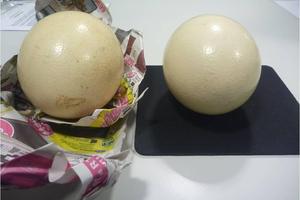 Biosecurity officials are warning travellers to declare high-risk items after two ostrich eggs were discovered in the luggage of a passenger at Auckland airport.
The two eggs, weighing around 1.5kg each were found wrapped in newspaper.
The passenger was fined $400, Ministry for Primary Industries spokesman Steve Gay said.
The eggs posed a high biosecurity risk because they could carry avian diseases, he said.
"And we can't write off the idea that the eggs were going to be used for breeding."
Mr Gay said it "beggars belief" that the passenger could forget to declare something so obvious.
"Air passengers pass more than 30 signs asking them to declare or dispose risk items before they even speak to a quarantine inspector," he said.
- nzherald.co.nz