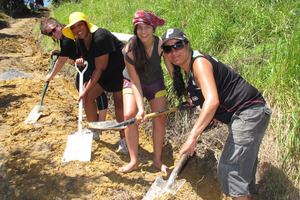 More than 100 people have taken part in a mammoth volunteer effort to repair the track to the Rainbow Warrior memorial at Matauri Bay in Northland.
The monument commemorates the 1985 bombing of the Greenpeace flagship Rainbow Warrior in Auckland by French secret service agents. The attack killed crewman Fernando Pereira.
The damaged ship was scuttled 25 years ago at the Cavalli Islands off Matauri Bay. A monument in the form of a black stone rainbow by Kerikeri artist Chris Booth was built on hilltop overlooking the bay but the track had become worn and overgrown.
The weekend working bee was organised by Greenpeace ahead of a planned visit in early January of the ship's successor, the purpose-built Rainbow Warrior III.
Among the volunteers was Frenchwoman Charlotte Cristofari from Corsica, who was not even born when the original Rainbow Warrior was sunk.
The 23-year-old said she was not trying to make amends for her country, but that was one of the reasons - along with the chance to meet the rest of the Greenpeace family - she had volunteered to help. She felt moved to see Matauri Bay for herself and to be part of the effort.
"It still stirs you inside when it is your country. It was difficult to see the photo of the person who died, and the black rainbow sculpture ... it makes it more real," she said.
Coordinator James Bellamy of Whangarei said 120 volunteers took part from almost every corner of the planet. They shifted 6cu m of gravel up a steep 350m track, requiring 600 trips with heavy buckets, and installed 12 culvert pipes for drainage. They also cleared two years' worth of grass from the hilltop.
Mr Bellamy said Greenpeace was working with Ngati Kura to make sure the track was regularly maintained. It was initially put in with a bulldozer, making it steep and prone to wear.
It was important to keep the monument accessible, not just because the Rainbow Warrior III was visiting next year, he said. Also helping out was Greenpeace New Zealand's executive director Bunny McDiarmid, who described it as "a mammoth effort".
Sculptor Chris Booth said he felt honoured that Greenpeace had dedicated so much time and money to upgrading the track to the monument he had built 22 years ago.
For more articles from this region, go to Northern Advocate