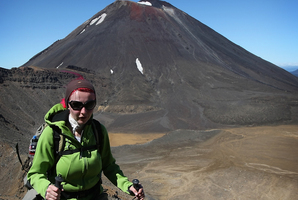 Experts at the Department of Conservation are meeting today to decide if the Tongariro Crossing can be partially reopened this week.
A 3km hazard zone has remained in place since the volcano erupted from Te Maari crater last Wednesday afternoon.
Scientific advice to the department (DoC) is being evaluated before a decision is made on allowing people back to some tracks on the crossing as early as Thursday.
If the risk management review is positive, some of the tracks and the northern circuit will be dropped from the exclusion zone.
Last week's eruption on Wednesday sent ash into the air in front of sightseers who quickly scrambled down from the crossing.
The volcano remains volatile and DoC's risk assessment has included looking at where previous eruptions have catapulted rocks to in order to decide if it is safe for certain tracks to be reopened.
"Te Maari could still erupt at any time with little or no warning," DoC said in its latest update.
"A great alternative scenic walk for keen trampers is the southern section of the Tongariro Northern Circuit between Whakapapa Village through to the Waihohonu Hut, including the Tama Lakes or further through to the Desert Rd.
"DoC is very aware of the economic impact on local communities of having the Tongariro Alpine Crossing closed. While wishing to reopen the track as soon as possible, public safety remains the paramount concern," the department said.
Barriers on Mangatepopo Rd may also be removed by Thursday.
- APNZ