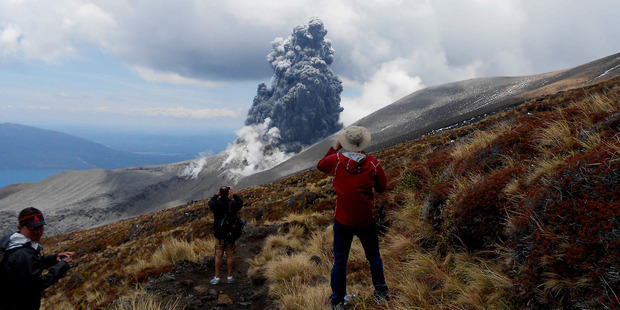 Tamatea Intermediate School's volcano studies took on unexpected realism as Tongariro erupted in front of a fifth of the Hawkes Bay school's pupils on a trek during their end-of-year camp.
As part of their studies, pupils had been making their own volcanoes, complete with explosions, teacher and camp leader Paul Lowes said from the Mission Bay camp where the 90 Year 8 children and 10 teachers and parents were staying.
Lessons came to life on the Tongariro Track when ash and gas burst from Te Maari Crater shortly before 1.30pm.
"We weren't too close, but we got a marvellous view," Mr Lowes said. Using cellphones, leaders were able to advise principal Roy Sye immediately that the group was safe.
Mr Sye, who had been to the area last week with another group of pupils, was in Wellington yesterday but was able to broadcast the good news to worried families who had begun flooding school telephones with calls.
But what had been a moment of fear back home was being taken in stride by the children, as they got "fantastic photos and fantastic footage", Mr Lowes said.
"The ash cloud rose and rose," before the wind began to disperse it away from the group, which had arrived in the area aboard two Nimons buses on Monday and is due back at the school tomorrow afternoon.
After the mountain silently blasted ash and gas two kilometres into the sky on the western side of the mountain, police and Department of Conservation (DoC) staff closed the Tongariro Alpine Crossing at Ketetahi and Mangatepopo roads.
DoC community relations manager Kim Alexander-Turia said about 50 people were thought to be on the crossing at the time of the eruption. All were thought to be safe.
For more articles from this region, go to Hawkes Bay Today