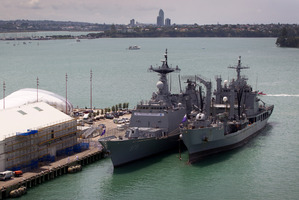 Two South Korean warships have docked in Auckland's waterfront for a visit that marks 50 years of diplomatic relations with New Zealand.
The warships Chungmugong Yisunshin and the Daecheong arrived at Queens Wharf yesterday.
The 620 crew members including 133 midshipmen, were welcomed by Korean consul general to New Zealand Yilho Park, and will be meeting counterparts from the Royal New Zealand Navy during their stay here.
"It is a great pleasure to visit a reliable brother country, New Zealand," said group commander Rear-Admiral Park Moon-Young.
The crew's itinerary include meetings Ministry of Foreign Affairs and Trade director Jeremy Clarke-Watson and Chief of Navy Tony Parr, and a visit to the Devonport naval base.
Admiral Park said the crew would also be holding performances and programmes to honour New Zealanders who have fought in the Korean War and "sacrificed their lives in defence of the freedom and peace" for South Korea.
More than 30 New Zealanders were killed in action during the war that lasted from 1950 and 1953.
New Zealand first fought as part of the United Nations force to repel North Korea's invasion of South Korea, and then in a garrison role after the armistice.
John Dallow, 81, one of 15 Korean War veterans at yesterday's welcoming ceremony, said he felt "honoured" to have played a role in helping South Korea become what it is today.
"It is just a tiny role, but it is an honour to know that I have played that tiny part, in helping the country progress to become one of the world's great nations," said Mr Dallow, who was a leading signalman between 1951 and 1952.
Both ships will be open for public tours between 10am and 4pm today and tomorrow.