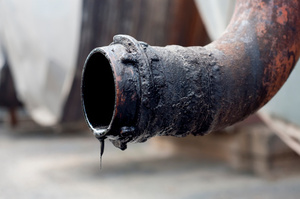 Spilled bitumen is being removed by hand after the boiling mess overflowed from a factory tank into an Auckland stream this morning.
Firefighters discovered the spill at Thermakraft Industries on Turin Place in Otara after responding to an alarm about 9.50am.
The boiling bitumen covered an area about 15m by 25m inside the factory and leaked to an area about 10m by 10m outside, fire service communications shift manager Megan Ruru said.
No one was injured in the spill.
The fire service attempted to stop the spill by covering it with dirt.
"A check of the premises was done to confirm that the air inside the building was within the safe exposure limits, which it was, and then we've handed the scene over to the Department of Labour, the city council and the building owners,'' she said.
Auckland Council spokeswoman Lydia Blatch said some of the spilled bitumen leaked into waterways before it was stopped.
A pollution response officer from the council visited the scene, where barriers were set up to prevent further pollution reaching waterways.
Ms Blatch said the bitumen, which solidifies "reasonably quickly'', had been contained and it was being removed by hand.
The council was not sure how much had spilled over into the waterway but it had caused some damage to vegetation along the stream's bank.
The council would work with Thermakraft over the clean-up, she said.
It would also work with other agencies to determine the cause of the spill.
Phone calls to Thermakraft were not immediately returned.
- APNZ