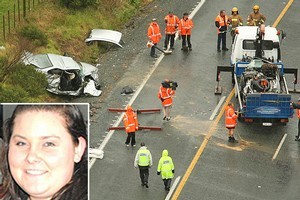 A high-speed crash that killed two young women happened when the driver lost control and crossed the centre line, a coroner's inquest has found.
Eleshia McKinstry, 23, and her friend Merle Jeschke, 22, were killed when the car they were travelling in crashed near the notorious accident blackspot Dome Valley in March last year.
The pair were on their way back to Auckland from a hair colouring training session in Whangarei with their friends Terri-Lee Daly and Sarah Manning, both professional hairdressers.
Ms Daly and Ms Manning were passengers in the backseat of Ms McKinstry's Mazda Lantis when it crashed at about 2.45pm.
Coroner Brandt Shortland found that Ms McKinstry lost control on a section of SH1, south of Wellsford after overcorrecting her car into oncoming traffic.
Her car collided with a northbound BMW, driven by Suzanne Blair and a Ducati motorcycle, driven by Felicity Millar.
"All of a sudden I felt the car swerve severely and sharply to the left, it was really sudden and random. I looked up and heard Eleisha shout out 'stop'," said Ms Manning.
Ms Blair and Ms Millar had very little time to react.
"... it looked like they lost control and the car fish-tailed. I saw the front of the car hit the silver coloured BMW that was in the front of me. Both cars then appeared to spin and I think they hit each other again. I braked," Ms Millar said.
"There was a huge bang and I think the sporty-type car hit me. I think I went over the front of the car and my left knew hit the top of the windscreen and the roof."
The impact of the crash killed both Ms McKinstry and Ms Jeschke instantly and "literally destroyed" the Mazda, the coroner said.
The other four involved suffered serious injuries and were flown to Auckland Hospital by helicopter.
"I conclude with the police view that Eleisha McKinstry lost contral of her Mazda whilst negotiating the easy left-hand bend," Mr Shortland said.
"Clearly Eleisha has tried to correct the deteriorating position by righting her car. This has only served to over-correct her steering in trying to regain control."
Drugs and alcohol were not a factor in the accident and that conditions were wet at the time of the crash.
- nzherald.co.nz