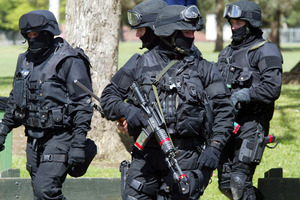 An imitation gun pointed out a window sparked an armed police callout in suburban Wellington this afternoon.
Armed police surrounded the Ironside Road house in Johnsonville about 4pm after a member of the public reported seeing a gun pointed towards the street.
The area was cordoned off and police attempted to negotiate for the people inside to come out.
Wellington police tactical response manager Inspector Terry van Dillen said a young man in his 20s walked out about 6.30pm.
"As a result of that we've made some further inquiries and located the other person we thought may have been in the house, down the road in another house.
"So we've picked those two young fellows up and we've brought them back to the station here to have a chat to them."
The second man was also believed to be in his 20s, Mr van Dillen said.
Police searched the property and discovered an imitation gun.
It was too early to know if charges would be laid against the two men, he said.
"It's an unfortunate thing to do because it does take up a lot of time and resources police-wise and it's a huge inconvenience to the public."
- APNZ