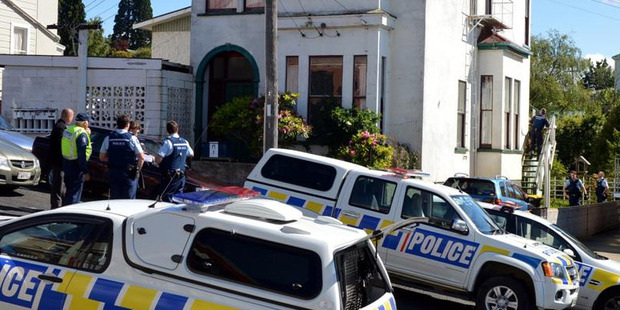 A woman who was attacked by an unknown male assailant in her Dunedin flat yesterday is "extremely lucky" to have survived the random act of violence, police say.
The 26-year-old was in a stable condition in Dunedin Hospital last night after undergoing surgery for stab wounds to her neck and face.
A scene examination of the cordoned-off City Rise flat was carried out last night by ESR and CIB staff, and was expected to resume this morning, Detective Inspector Kevin Hooper said.
The woman answered her front door about 8.30am, had a brief chat with a male stranger, who then stabbed her after getting inside the flat she shared with her 3-year-old daughter.
She managed to fend off her assailant, and left the flat with her daughter, who was unhurt.
Mr Hooper said a passing motorist saw the woman in a distressed state and had taken the victim and her daughter to hospital.
Police had spoken briefly to the woman before her surgery and, despite her injuries, she was able to provide information about the attack.
"She is extremely lucky ... this is extremely serious and it is fortunate the stab wounds didn't go a bit deeper."
Mr Hooper said early indications were that the man had chosen the house at random.
He declined to name the weapon used in the attack, or whether it belonged to the man or came from his victim's home.
"What we know is she suffered stab wounds. I have an idea of what may have caused those stab wounds, but we don't want to go into it."
He declined to say if the attack was sexually motivated.
The man was described as being light skinned, around 184cm tall with short hair and facial stubble. He was wearing jeans and a black hoodie.
Twenty police staff were working on the attack and while they were not investigating a particular suspect they were keeping an "open mind", Mr Hooper said.
Police had increased patrols around the City Rise area and would be canvassing the area again today.
"I would be asking people to use their common sense and be mindful of their personal safety. If anyone saw anything suspicious, not only between 7am, and 9am (yesterday) but any time over the last few weeks, we would be interested in hearing about it."
Residents were asked to check their properties for "anything that shouldn't be there", as the offender has left the scene in an unknown direction.
Duncan St residents, including those who flat in the same building where the attack took place, said they heard nothing until the large police presence arrived.
One resident said the woman was believed to have recently moved from the North Island, but police were not able to confirm this last night.