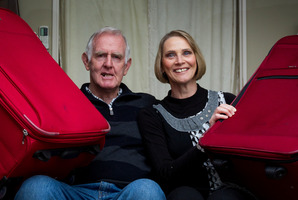 Since her husband, Kevin, had a stroke 14 months ago, Kathy Plummer says her life has been in turmoil. But it all turned around when she found she was the grand prize winner of the Herald's See The World competition.
"It's like something out of a story book," the 58-year-old said.
Mrs Plummer's prize includes return premium economy flights for two from Auckland to London flying Qantas, four nights' accommodation at the four-star Marylebone Hotel and a prepaid travel money card loaded with $1000.
Mrs Plummer, of Mt Albert, said she hasn't slept since hearing the good news three days ago - her mind has been in overdrive planning what they're going to do with their time.
"It's absolutely amazing, especially after what's happened with my husband. I've told all my friends and family about it and they all said, 'See, good things come in the end'."
The winners
London Kathy Plummer, Auckland.
Brisbane David Collman, Auckland, Janelle Davies, Whakatane.
Bangkok Nico Vandermeer, Auckland.
Cairns Lance Kemp, Maungaturoto.
Hong Kong Malcolm Frethey, Hamilton.
Johannesburg Amy Rose, Auckland.
Los Angeles Stephanie Needham, Papakura.
Melbourne Bruce Scotson, Auckland, Paula Armstrong, Papamoa, Nathan Gidayawan, Auckland.
Singapore Irene Dagger, Whangarei.
New York Jennette Thorne, Auckland.
Sydney Muriel Wright, Kerikeri, Brian Silverstone, Hamilton.