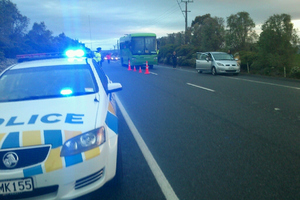 A woman hit by a bus near Palliser Estate vineyard after yesterday's Toast Martinborough wine festival is likely to be discharged from hospital today.
The woman in her 20s was in a serious but stable condition when she was taken to Wairarapa Hospital by ambulance about 6pm.
A spokesperson for the Capital and Coast DHB said the woman was kept overnight for observation, but is likely to be discharged today.
The incident occurred in Kitchener St, about 200m west of Palliser Estate, said Masterton police Senior Sergeant Carolyn Watson.
Festival-goers leaving the event were delayed as police closed the road and traffic was detoured, Ms Watson said.
Police were at the scene late last night interviewing witnesses.
The incident came at the close of an event praised by police for good crowd behaviour, despite more arrests than in previous years.
Around 10,000 people attended the annual wine and food festival, which was last year marred by reports of drunk and out-of-control festivalgoers, with four arrests made.
Ms Watson said eight people were arrested yesterday for offences including disorderly behaviour, fighting and breaching the peace.
One was an "extremely intoxicated young man" who had climbed into the front seat of an ambulance, the crew of which was attending to another patron.
Ms Watson said the increase in arrests was largely the result of police being out in force.
"I put that down to the fact we had a lot more police here to deal with things pro-actively and quickly."
She said measures such as single entry and intoxication-level checks had made a significant difference.
Ticketholders were funnelled through security checks at Featherston Station and Martinborough Square, with security guards checking for alcohol and police observing intoxication levels.
"The howling southerly and rain tended to slow people down quite a bit," Ms Watson said.
St John Ambulance Wairarapa manager Murray Pike said the numbers of people needing medical attention was fewer than usual, with around 10 people through the St John triage rooms and about eight people through the "safe zone" detox tent.
He said most people just needed to rehydrate and were then released into the care of friends or family, although one woman had a cardiac-related incident and was taken to hospital.
Rain in the morning had exacerbated dehydration levels, said Mr Pike. "It was normal intoxication, and some rather adventurous people not quite dressing for the weather."
Toast Martinborough general manager Rachael Fletcher, speaking before the bus accident, said the festival had been great, despite early bad weather.
From about 9am to noon Martinborough was hit by wind and rain, she said.
"We've been lucky. It cleared, and we've had a really good few hours, a bit of fun and normal festival spirit."
She said the rain was not enough to generate muddy grounds, though some opted for gumboots anyway.
Security changes had involved a rescheduling of police staffing so there was more cover towards the end of the day, and those new processes had worked well, she said.
For more articles from this region, go to Wairarapa Times-Age