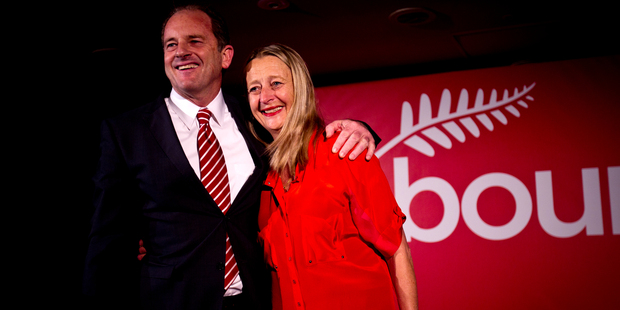 Labour leader David Shearer will summon his caucus for a confidence vote on his leadership possibly as soon as this week as he seeks to nip David Cunliffe's leadership ambition in the bud and open the way to discipline him for disloyalty.
Should Mr Shearer get the necessary endorsement from at least 21 of his caucus colleagues, he will move to discipline Mr Cunliffe for disloyalty over his repeated refusal to rule out a challenge to Mr Shearer.
Mr Shearer could still have to face a formal confidence vote in February - but securing a strong endorsement from the caucus now would effectively end speculation he will be rolled and give him the authority to discipline Mr Cunliffe.
Mr Cunliffe joined in the standing ovation for Mr Shearer's speech at the annual conference yesterday and later described it as "excellent".
But for the third day running, he refused to pledge to endorse Mr Shearer or rule out a challenge, saying he had not made any decision.
Mr Cunliffe said he would welcome an early confidence vote on the leadership, "because it would be to the party's advantage to deal with these issues earlier rather than later."
He would not discuss his own ambitions, but said he would expect that vote to be held under new rules decided at the conference which would require Mr Shearer to get support from more than 60 per cent of his colleagues - at least 21 MPs.
Speaking to Firstline this morning, Mr Shearer would not confirm an early leadership vote would be held.
"The bottom line is there have been issues come up as a part of the conference ... they've been magnified but they need to be put to bed. That's what I'm going to do.
"I will be the leader in 2014 going to the election and I am going will win."
Mr Shearer said he has not spoken to Mr Cunliffe since the conference.
At least 17 MPs publicly said they were backing Mr Shearer. Several others - many allies of Mr Cunliffe - refused to commit to endorsing Mr Shearer although none publicly backed Mr Cunliffe either. Charles Chauvel, Lianne Dalziel, Moana Mackey, Nanaia Mahuta and Louisa Wall all refused to give a position.
Mr Shearer delivered a powerful speech at the party's conference yesterday, earning a rapturous response from the gathered delegates which some said should put to rest any belief he did not have wide support of members.
Speculation about a challenge by Mr Cunliffe began after the conference passed changes to the leadership election rules, including allowing 40 per cent of the caucus to trigger a leadership contest.
Yesterday, several MPs backed steps to force the issue to a head early. Some openly stated their support for Mr Shearer and expressed frustration at Mr Cunliffe.
Former leader Phil Goff said it would be "silly" for anybody to challenge Mr Shearer, and Mr Cunliffe should support him. "He's been there 10 months, he's showed his potential, we've got every chance of winning government so why would you bother changing your leader?"
Damien O'Connor said Mr Cunliffe needed to provide some clarity about his ambitions "otherwise we will do that for him". Mr O'Connor said he backed Mr Shearer: "He's our leader and people who don't back him should get out of the way."
Front-bencher Jacinda Ardern said she backed Mr Shearer, and Mr Cunliffe's prevarication about Mr Shearer "distracts us from our singular goal of removing National from government".
How it stacks up: Will you support David Shearer in an endorsement vote?
Yes
Trevor Mallard, Grant Robertson, David Parker, Andrew Little, Clare Curran, Darien Fenton, Chris Hipkins, Kris Faafoi, Ross Robertson, Clayton Cosgrove, Iain Lees-Galloway, Megan Woods, Jacinda Ardern, Phil Goff, Annette King, Maryan Street, Damien O'Connor, Phil Twyford.
Refused to say
Charles Chauvel, Moana Mackey, Nanaia Mahuta, Parekura Horomia, Lianne Dalziel, Louisa Wall, Sue Moroney, Ruth Dyson.
Unknown, could not be contacted
Su'a William Sio, Rajen Prasad, Shane Jones, Rino Tirakatene, Raymond Huo, David Clark.