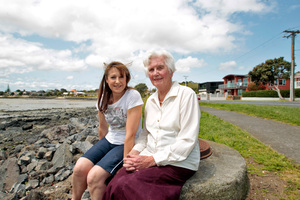 More than half a century ago Toni Geux moved to the other side of the world for more space.
She swapped the crowded terraced housing of Amsterdam for the quarter-acre paradise of New Zealand, eventually settling in the South Auckland community of Mangere Bridge.
"I came here so I could have some space, so I could have a bit of a garden," Geux, now 81, said.
She fears that way of life could be lost.
Council staff and a working group which includes Mangere-Otahuhu Local Board members have been developing a draft plan for future land use within the board's boundaries.
The draft includes proposed mixed housing of buildings up to four storeys high around central Mangere Bridge village and mixed housing of buildings up to three storeys high in other parts of the village - including along the waterfront street of Kiwi Esplanade.
The move has left some Kiwi Esplanade residents, including Geux, flabbergasted.
"Does the city have to grow? We've got a unique community. I don't want it to turn into Mission Bay.
"People come here to walk their dogs, because it's quiet. I'm 81, but I feel very strongly about this."
Mangere-Otahuhu local board member Carrol Elliott, a member of the working group, said the plan is for the whole area, not just Mangere Bridge.
"Mangere Bridge is a lovely village, but there has got to be change, because it's going to happen. It's no use saying 'not in my neighbourhood'."
The community was informed in September and she could not understand why Kiwi Esplanade residents were upset.
"There's already a house there that's three storeys high. It's a storm in a teacup."
Feedback on the draft plan will be considered by the working group over the next month.
- Herald on Sunday