Nannying can be a chance to travel and learn new skills - even for those past retirement age.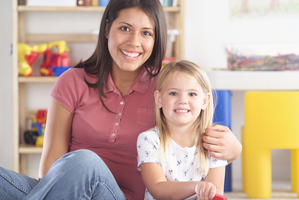 After spending most of her working life in the corporate world, Sanda Lawton felt it was time for a change.
She wanted a job she could keep past retirement age, so decided to become a nanny.
"My grandmother's Irish passport meant I could work in England without limits, so I did the OE I hadn't done when I was young. I ended up in London and thought, what do I do now? I had a moment of panic."
Lawton, who was then 57, contacted top agency Kensington Nannies and immediately found work with a celebrity family.
"It was 2003 and I earned around $950 a week," she says. "It was enough money to backpack around the UK for another three months after the contract finished."
The Papakura resident went on to spend two years working in Hong Kong, looking after the child of Chinese and New Zealand couple. She worked eight-hour days and earned about $50,000 a year.
"The little girl was 7 months old when I started and 2 years old when I finished. She spoke in English to her mother and Cantonese to her father, and went to a bilingual preschool.
"I learned to understand another culture."
Lawton, 67, says middle-aged women should never think there aren't new opportunities for them. "The world is your oyster."
She says some people have an impression that nannying is glorified babysitting, but it isn't.
"You need to know more than just how to change a nappy. You've got to become an early-childhood teacher just about. You need an ECE certificate, registration, First Aid skills and a police check."
Being outgoing, young at heart and liking children are also crucial requirements.
It is important to meet the family before signing up, to see how everyone interacts and to agree on things such as discipline and nutrition.
"The family are looking to take someone on to look after their most precious asset, their child - you need to have confidence to know you can do that," she says.
"Each child is different, so you have to work with different personalities. If you earn the respect of the children very quickly then there's no problem."
When it comes to cultural clashes, it's a case of "when in Rome do as the Romans do". "Sometimes I've had differences in opinion but you have to swallow your pride and get over it. The family is never wrong. They're paying for you."
Lawton advises against going to Asian or Middle Eastern countries without an agency, and says: "Do your homework, don't let the dollars dazzle you. I wouldn't sign up for more than a year."
A hard part about the job is getting attached to the children. "You're not their grandma and you have to learn that. You shouldn't stay in the job for more than two years."
But homesickness was the biggest drawback. "You might be on a 12-month contract - the first two months can be hell. You might think it'll never end. Don't judge the situation too soon and let yourself settle in.
"Going to England is a different kettle of fish. You've got a big nannying network so they keep things boosted up," she says.
The most significant perk of nannying is getting to see the world. "I always looked forward to going to work. You learn far more about a country working in it than just holidaying."
Lawton, referred to fondly by her agency as "Granny Nanny", says she prefers to live separately from the families. "You feel you can go to work then come home. If you live-in, you never get away and you can end up being called on all the time."
Rebecca Matterson, 23, has been employed as a nanny for seven years. She looks after a 3-year-old girl in Takapuna and earns about $770 over 35 hours a week.
"It's not just a job. You become a valued member of another family to the point I've been invited to Christmas dinners. Another family had a baby and I was the first person outside the family to see it."
Matterson says she sometimes feels she lacks the adult interaction of other jobs. "That's why it's fantastic I come through an agency (KiwiOz Nanny and Babysitting Agency) which organises set activities and nanny meet-ups. We recently visited the Devonport Fire Station."
Erin Glossop, 29, trained for six months at the Nanny Centre in Papatoetoe, ending up with Level 3 certificate in Early Childhood Education. She found a job with a Mission Bay family working 45 hours a week, earning between $18-$20 an hour.
"It's a job you do for the love of it. There's potential for a good income but it'll never make you a millionaire. It's rewarding and you meet other nice nannies along the way. You can end up with good friends."
Glossop says her best experience was being flown to Sydney for a wedding. "They took me over to look after their child and I was free for the rest of the weekend."
Krystal Staples, 25, is working as a nanny at Lugano in Switzerland. She says language barriers have been a challenge but the job is exciting.
"I spent the first few weeks observing and learning the way things were done, and then if there any processes I thought needed changing I noted them down and prioritised which to address first."
Staples says she prefers to work as a live-in nanny while overseas. "It takes away from the stress of finding accommodation, and you spend less time travelling to work so you have more down-time to explore."
One of the best things about nannying is watching children have "ah-ha" moments when they discover something new, she says.
"Nothing beats when a child you care for comes up to you and wraps their arms around you to give you a hug. It makes you realise how much the small things such as a hug are so fundamental to a child's well-being."
Geva Maher, KiwiOz Nannies' New Zealand manager, says her company accepts applications from qualified and unqualified candidates, although qualifications do hold weight.
She says nanny salaries vary depending on age, experience and qualifications. "The salaries for live-in roles versus live-out roles are significantly different, and roles in different countries offer very different salaries," she says.
"For example, to work in the United States you will more than likely be going over on an au pair visa and this stipulates the amount of money you can earn."