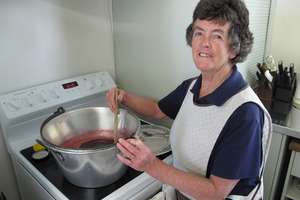 Today is your last chance to get your hands on a piece of Northland jam-making history - and support a good cause at the same time.
A Northern Advocate Facebook post last week about Far North pensioner Gloria Crawford and her jam-making efforts went viral, and by yesterday had attracted more than 130,000 views worldwide, about 13,500 "likes" and more than 740 comments.
The post celebrated Mrs Crawford's 10,000th jar of jam for Hospice Mid-Northland's charity shop in Kerikeri. Mrs Crawford made national headlines in the "jam scandal" of 2009 when food safety officials put a stop to her jam-making because she did it at home instead of in a dedicated commercial kitchen.
She won that battle in the end and still delivers a fresh batch to the hospice shop in Hobson Ave every Friday.
The Advocate managed to get hold of the last remaining jar of plum jam from that history-making batch, and it is now on Trade Me where it will hopefully raise a few more dollars.
We can't guarantee it's the 10,000th jar - even Mrs Crawford has no way of knowing which one is the magic number 10,000 - but it is from the same batch and is the last one not already spread on someone's toast.
The auction closes at 12.48pm today.
As of lunchtime yesterday this historic jar of plum jam was going for a mere $21.
To place a bid go to www.trademe.co.nz and search for listing 531772781 or "Gloria Crawford's Hospice Jam".
All proceeds go to Hospice Mid-Northland.
For more articles from this region, go to Northern Advocate