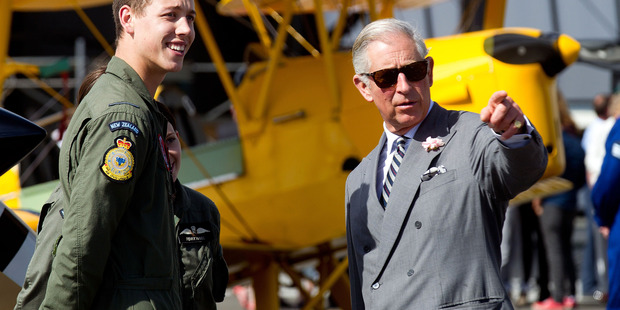 Prince Charles and his wife Camilla, the Duchess of Cornwall, spent their last hour in Manawatu today impressing Royal New Zealand Air Force personnel and their families.
More than 300 staff and family members waited at an Ohakea Airbase hangar for their Highnesses to visit this afternoon, in the last of their stops in Manawatu during their tour of New Zealand.
Prince Charles arrived ahead of his wife and, although he was running late, took the time to speak with everyone waiting for him.
He was joined by RNZAF chief, Air Vice-Marshall Peter Stockwell and Commanding officer Captain Darren Webb.
Many children presented flowers to the prince and later the Duchess of Cornwall, when she arrived.
Flight Lieutenant Sam Paterson said it was thrilling to have the prince visit the base.
Prince Charles asked him and his wife Sarah about life on the base, and asked whether he was able to spend much time with his toddler Eva and baby Quinn.
"It's amazing how personable he's been,'' Mr Paterson said.
Nine-year-old Aimee Clark gave Prince Charles a bunch of flowers she had picked.
"He said thank you and patted me on my shoulder. It's so cool because it was a once in a lifetime opportunity,'' she said.
The Prince asked Flight Sergeant Craig Harnett about whether bombing exercises are carried out near the base and the type of planes he worked on.
"He was a lovely, warm and engaging man,'' Mr Harnett said.
"We're lucky he was able to come out in such a small gathering.''
His wife Tanya Harnett said the Prince put them at ease straight away.
Air Vice-Marshall Stockwell said it was an exciting day for air force staff.
"Because it's our 75th anniversary, the Prince was really keen to spend as much time as he could with the air force.
"Today's quite special for the base because it's an opportunity for people on an informal basis to have a chat with him and the Duchess.''
He said given that Prince Charles was the country's future king it was good to be able to develop a relationship with him.
Despite a long day at public events, Prince Charles maintained a dapper look, with a black and silver diagonally striped tie and pink carnation in his buttonhole.
After chatting with staff and family members, Prince Charles inspected some of the old planes and new air force helicopters, and spoke with personnel who maintained them.
He and the Duchess then boarded an RNZAF Boeing 757 and flew back to Wellington before their continuing trip tomorrow to Christchurch.
- APNZ