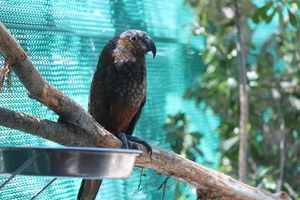 Five Wellington Zoo kaka are taking flight, relocating to the Hawke's Bay to breed.
Three of the birds are heading to Boundary Stream, where they will join three others to form part of a national breeding programme.
The parents of the trio, who have proved a successful breeding pair, will go to the Cape Kidnapper's Cape Sanctuary.
Wellington Zoo now has a newly established kaka pair that is expected to breed next year.
The zoo will also receive another female in the future to pair with another male and both pairs will be able to contribute to the breed for restoration project.
"It is incredibly rewarding to see more kaka released to help boost population numbers across the North Island," said zoo chief executive, Karen Fifield. "We have now bred 20 kaka for restoration here at Wellington Zoo since 2007."
- nzherald.co.nz