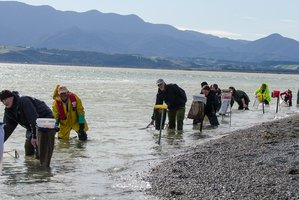 Westport whitebaiters who "hung around to the bitter end" were rewarded with big catches over the last two days of the season which closed yesterday.
Department of Conservation (DOC) ranger Martin Abel said people fishing the Buller River, and some rivers to the north, had been catching buckets' full over the past two days.
"Overall it's been a pretty good season .... started slowly but there were some really good runs mid season and the fishers seem really happy," Mr Abel said.
"The past two days have been very good, those that hung around to the bitter end have got a pleasant surprise, most were catching bait by the buckets' full."
Mr Abel said compliance with the regulations was good, apart from one man caught fishing in a closed area in the mid season. Because the bait was still running, rangers would be out in force over the next few days to ensure that no-one was tempted to dip the net post-season.
It was different story down in South Westland, a traditional stronghold of the West Coast whitebait industry.
Haast DOC ranger Cornelia Vervoorn, said the season was blighted by stormy weather which limited opportunities.
Catches, when the weather cleared, were not big. Stands that sometimes produced tonnes of bait had been limited this year to kilograms.
South Westland rangers detected 20 breaches of the regulations, but each case was being assessed to see whether a prosecution was warranted.
Waterways in the Westland and Grey districts were also in flood for long portions of the season, especially the first month, but there were occasional big catches in the Hokitika and Grey Rivers, the Cobden side of the Grey producing the biggest hauls this year.
The dearth of West Coast bait on the Christchurch market sent prices for the delicacy soaring mid season. One outlet at Ilam topped the price charts, charging $140/kg in early October while many others were in the $110-$120kg bracket.