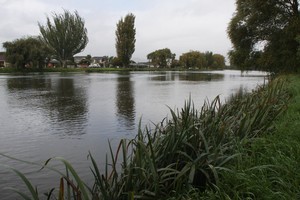 A young carpenter who crashed his car into Christchurch's Avon River drowned, probably partly because he was drunk and unable to get out of the car, a coroner has concluded.
Daniel Mercer, 20, died driving home in the early hours of Christmas Eve last year after having festive break-up drinks with colleagues.
His mates thought he was getting into a taxi when they last saw him leaving a bar in Merivale.
But the apprentice builder, on a restricted licence, decided to get in his Mazda Familia and drive.
While not wearing a seatbelt and taking a 50km/h bend at an estimated 97km/h, he lost control and flipped upside down, landing in Christchurch's Avon River.
Coroner Richard McElrea today released his finding into the death on December 24 last year.
Toxicology analysis showed Mr Mercer had a blood alcohol level of 145mg/100ml. The legal limit is 80mg/100ml.
The coroner said his intoxication had affected his judgement and reactions, contributing to the smash.
"It is also likely to have impaired his ability to escape from the sunken vehicle resulting in drowning," Coroner McElrea said.
He said that earlier on December 23, Mr Mercer and his mates had been drinking "heavily" when he decided to pick up a friend nearby and drive around the city.
After dropping his mate off in Riccarton at around 3.35am he headed home to Burwood on the other side of the quake-damaged city.
The coroner said Mr Mercer had been reportedly driving "crazy" earlier in the night, doing burnouts, handbrake turns, and was speeding. While driving east on New Brighton Rd, he failed to handle a moderate right-hand bend outside Burwood School, just 2km from home.
He lost control, flipped upside down and became submerged in the river.
"Despite rescue attempts, he died at the scene," Coroner McElrea said.
A group of young people in a nearby flat who heard the crash jumped into the river to try and save him but their efforts in the dark and murky conditions were unsuccessful.
Police serious crash unit officers also noted that the car's headlight switch was off.
The coroner reported the officers saying it was unusual as it would have been "hard to knock out" in the crash.
His mother Susan Mercer, a nurse at Christchurch Hospital, said after the crash last year that the family did not celebrate Christchurch.
"It was a pretty sombre time," she said.
Her last memory of her son was when he had come home that afternoon with a "big smile on his face" after his last day at work and was looking forward to going to Queenstown with his friends for New Year.
"I can still see his smile. He was always happy," she said.
"He was a good kid, it was just his time. I'm actually at peace with it. He was so loved."
- APNZ