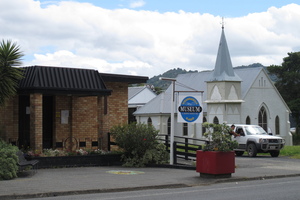 Police are investigating the possible theft of hundreds of historic photographs from a Far North museum.
A complaint was laid late last month with Kerikeri police about the disappearance of more than 500 photos from the Whangaroa County Museum and Archives Society in Kaeo.
The issue was discussed at a heated museum meeting on Saturday.
The Advocate understands some photos have vanished from the collection, while others have been replaced with photocopies. The photos depict people and scenes from Whangaroa history.
Senior Sergeant Peter Robinson of Kerikeri police confirmed a complaint had been laid and been passed on to the Kerikeri-based Tactical Crime Unit, formerly the Criminal Investigation Bureau.
It was likely to be a protracted investigation because the alleged thefts went back a decade and a large number of people had had access to the collection in that time.
The investigation was complicated by the fact the alleged thefts had only just come to light.
Asked whether the alleged thefts had been committed by an insider, Mr Robinson said that "on the face of it", that appeared to be the case. However, it was not necessarily so and police didn't have enough information to draw conclusions.
It is understood the society has had concerns for some time and commissioned a museum expert to prepare a report into the disappearance of the photos and the options open to museum officials. That report is thought to include lodging a complaint with police as one of the options. Legal advice to the society, however, was that they had no choice but to lay a complaint.
The museum held its quarterly general meeting on Saturday with a "photo collection investigation update" among agenda items. Members also planned to discuss a way forward for acquiring new photos.
The society didn't wish to comment when contacted last week, saying the matter was being dealt with in the proper way.
The museum has a substantial collection of photos, documents and artefacts in the former Far North District Council service centre on Kaeo's main road, previously housed across the road in the old post office.
Museum highlights include displays on the 1809 sinking of the Boyd and items from the Greenpeace flagship Rainbow Warrior, which was bombed in 1985 and sunk off nearby Matauri Bay. It also has displays on timber milling and missionary work from 1814 onwards.
For more articles from this region, go to Northern Advocate