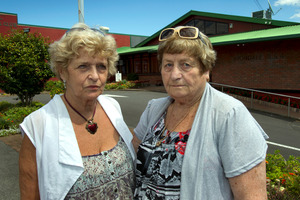 The Avondale RSA and one of its cleaners have pleaded guilty to charges relating to the poisoning of an elderly customer.
Nola Murphy ordered a Sprite Zero from the Avondale Returned Services' Association club on her 73rd birthday in February, but was given a bottle filled with a toxic chemical, benzalkonium chloride.
The chemical is commonly used for clearing pipes.
Cleaner Julie Taipeti pleaded guilty to breaching food-safety regulations in the Waitakere District Court, while the RSA pleaded guilty to selling a substance that wasn't fit for human consumption and keeping a poisonous substance in a food container. Both will be sentenced in the Waitakere District Court in January.
Murphy, speaking after the guilty pleas, said she was relieved it was her, and not a child, who had drunk the chemical, which had been left on the bar five weeks earlier by Taipeti and later put in the fridge by a bartender.
"What if it had been given to a child or a smaller woman? They would have never come out of it," Murphy told the Herald on Sunday.
She does not drink Sprite anymore and if she buys a drink she always tests it.
"I've learnt put your finger in the drink then taste it."
She felt her head "explode" within seconds of swallowing the fizzy, clear liquid. "I couldn't even say 'help me'. I couldn't speak because my throat was closed off. I could hear what was going on around me but I couldn't talk or breathe.
"All I thought was my daughter is coming home (from London) to see me in a box."
Her friend Heatha Anderson, 61, also sipped the drink but spat it out before she experienced a similar reaction. Both women were taken to Auckland City Hospital for treatment.