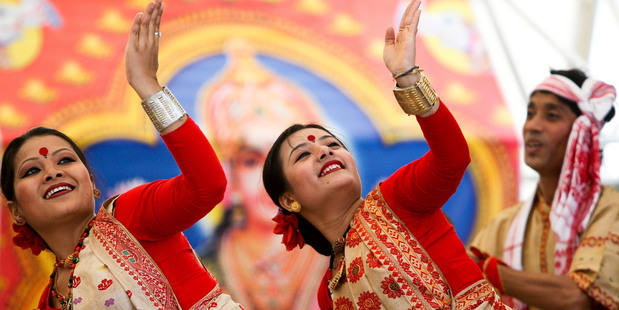 Indians are celebrating Diwali this weekend, though concerns are rising at the timing and commercialisation of public events.
Dr Anil Channa, one of the organisers of the Manukau Diwali 2012 at the TelstraClear Event Centre yesterday, is concerned Auckland Council hosted the 11th annual Diwali Festival at Aotea Square on October 13-14.
"It's bizarre," Channa says. "Though it's great that Diwali is celebrated as a big cultural event, it's ridiculous that the various celebrations are being held from the beginning of October. It's like having Christmas in September. I have also written to the Prime Minister about the commercialisation of the festival."
Jeet Suchdev, QSM JP, says the biggest public spectacle of Diwali in the city is hosted at a time Hindus consider the Shradh period - when they pray for departed souls, hardly a celebration.
"I don't think it is appropriate to have fireworks and celebrate during that time of the year," explains the chairperson of the Bhartiya Samaj Charitable Trust.
As a member of the Ethnic Peoples Advisory Panel, Suchdev has raised the point with Auckland Tourism Events and Economic Development (Ateed), who organise the festival. "It's a culturally sensitive issue."
President of the Manukau Indian Association Balubhai Mistry says: "There is a lot of confusion with so many Diwali celebrations happening at different times as a result of which a lot of Kiwis have no idea when the real festival is."
Georgina Gilmour, acting manager of major events for Ateed, says there have been no complaints lodged by members of the Indian community about the timing of the festivites.
"If people have a concern about dates we want to hear from them.
"The dates for the city-centre celebration are fixed well in advance due to the traffic management and other events on the council's calendar," she says. "The various Diwali celebrations occurring before the official Diwali date are much the same as the many Christmas celebrations Aucklanders take part in, in the lead up to Christmas Day, including Auckland's iconic Farmers Santa Parade that takes place every year in November."
Auckland Mayor Len Brown's only response was that he welcomes Ateed's ongoing commitment to working with the community "to ensure Auckland continues to have great Diwali celebrations".

End of all negativity
On Diwali day - November 13 this year - Anita Javeri lights oil lamps in every room of the house to vanquish all evil and negativity. "It's a new lease of life, a new beginning," the dentist from Howick says. "After which there will be some prayers, followed by feasting, greeting friends and bursting of crackers."
The following day, which is New Year's day, like most business families they will pray for prosperity in business. The second day of New Year celebrates brothers and sisters.