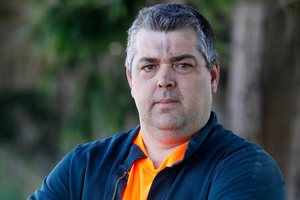 The man who told staff an ACC case manager was "lucky he didn't shoot her" has come forward to say the comment was made out of anger and frustration because the organisation had refused to cover costs for an injury his wife sustained at work.
Mechanic Alan Fieldsend has been in a battle with the Accident Compensation Corporation over compensation for his wife Pauline, 42, after she injured her right wrist while working as a mushroom picker at Cresta Mushrooms, in Pukekawa, south of Auckland, in November 2010.
ACC claims the injury was not caused by the accident and was not work-related.
Mr Fieldsend contacted the Herald to tell his side of the story after ACC used his comment about shooting as an example in a story published on Monday about the rise in threats received by the organisation.
Mr Fieldsend said he told a call centre worker the case manager was "lucky I didn't have a gun because I would have shot her" when he called to complain about her upsetting behaviour an hour after their first review hearing in August last year.
"I don't have a gun on me, I'm not that sort of person, I don't have a criminal record or anything," he said.
"I was just really angry because in my opinion she (the case manager) was pulling faces at me without the review person seeing it. I did it out of frustration."
The frustration came from the couple being unable to get any compensation - apart from several physio appointments - from ACC since the 42-year-old injured her wrist when she tried to stop herself falling from a stand while picking mushrooms, he said.
After the accident, Mrs Fieldsend had had to reduce her hours from about 40 hours a week to 10 because she was in so much pain and kept dropping things.
She eventually stopped working in August last year and doctors were still working to diagnose the cause of the pain. The Fieldsends have been fighting ACC for two years and have unsuccessfully appealed against two decisions.
The reviewer of the first appeal ruled the injury was not caused by the November accident and the latest decision, given in September, dismissed the claim it was the result of a work-related, gradual process injury.
The accident has put strain on the couple, who moved from their Pukekohe home to Whakamaru, in the central North Island, this year because they couldn't afford to live in Auckland on one salary.
Their three sons, aged 18, 21 and 24, stayed in Auckland.
"We've had to move away from friends and family, we are in the middle of nowhere now," Mr Fieldsend said.
"My wife is stuck at home all day, I'm at work, our kids have stayed up in Auckland so we've got no family here.
"My wife is stressed, she cries herself to sleep every night, now she's on a public waiting list because we can't afford a lawyer to keep fighting these guys. But I'm not going to give up.
"I will sell all my blood - I will sell a litre at a time if I have to - to find a lawyer who will help fight this case."
In a written response, ACC said it did not publicly discuss details of individual claims so it would not comment on the case.
But any party affected by a review decision could lodge a court appeal within 28 days of the decision being issued.
Despite Mrs Fieldsend signing a waiver allowing ACC to discuss her case, corporation staff refused to comment.