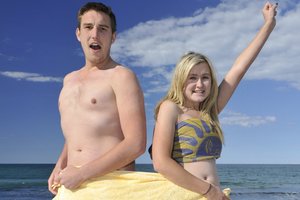 Skinny dippers attempting a world record in Tauranga will be covered in to ensure that unsuspecting beachgoers are not exposed to the fleshy scene.
The event organisers have accepted recommendations from the Tauranga City Council for a new location and that shade screens be set up to create a visible barrier.
The world record attempt for skinny dipping was arranged by radio station The Edge after listeners voted Mount Maunganui the ideal North Island location. The event will now be held at Papamoa's Harrison's Cut on December 1.
Council spokeswoman Alison Clifford said other events planned for Mount Maunganui that weekend would make parking and access difficult for the event. Some roads would be closed for a Christmas parade which would be staged on the same day.
Harrison's Cut had ample parking.
The council also suggested that a shade screen be erected.
"The organisers have accepted a suggestion from council to use 1800mm-high printed shade cloth to create a three-sided compound. This will enable participants to disrobe and prepare out of sight.''
The Edge marketing manager Emily Hancox said the screened-off area would become a place where people could gather in towels provided before entering the water.
"The shade screens will provide that protection from offending those unaware of the event taking place.''
Ms Hancox said they planned to have music and a sausage sizzle to created a "relaxed, celebratory atmosphere''.
The station's breakfast hosts Jay Jay Feeney, Dom Harvey and Mike Puru would attend, with Harvey already having signed up to take part in the nudie run.
Ms Hancox said they were hoping to see a great turn-out and were considering bringing in buses of people from Rotorua, Hamilton and Auckland, which also made the Harrison's Cut location more suitable.
Registrations for the skinny dip would open from next week and youth-targeted mobile phone service Skinny had come on board, offering a $1000 prize on the day.
Family First national director Bob McCoskrie said the move away from the main beach and introduction of screens was a "victory for common sense''.
When the Bay of Plenty Times first published the story of the plans, Mr McCoskrie hit out at it, saying it was highly offensive and "completely unacceptable''.