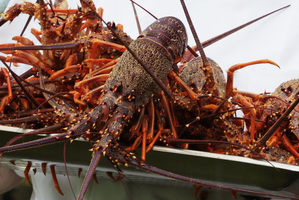 A fisherman struggling to repay loan sharks resorting to selling black market crayfish for cash, a court has been told.
Isaac Kereama, 37, has lost his leased fishing vessel, ute and 50 cray pots after being caught in a fishery officers sting.
The commercial rock lobster fisherman appeared at Christchurch District Court today to admit a charge he landed undeclared crayfish off the Canterbury coast and sold them to a mate who on-sold them to the public.
Ministry for Primary Industries lawyer Grant Fletcher told the court that New Zealand had a significant problem with the black market sale of fish.
"The quota management system relies almost entirely on the honesty of commercial fishers," he said.
From September last year to February 20, Kereama used his fishing boat to get crays out of Tikao Bay on Banks Peninsula.
An investigation found he was selling small live crayfish for $20 each and larger live fish for $40 each.
They did not know how much he made from the illegal enterprise but accepted that the fish were sold well below the local retail price of about $90 per kilogram for frozen product.
Sales were arranged by text messages.
A statement of facts cited an example from November 16 last year, where Kereama, texted an associate indicating that he was selling 100 rock lobster.
"Some of his transactions were significant of over a thousands dollars at a time," the statement of facts says.
When interviewed by fishery officers, he said: "I knew it was wrong. I got desperate."
His lawyer Mark Callaghan said he was struggling to repay the "exorbitant" fees of loan sharks.
He feared he would lose his boat and quota if he didn't come up with some quick cash.
Judge Gary Macaskill remanded Kereama, a single father-of-one who is currently working at a factory in the Chatham Islands, on bail until January 21.
He also ordered the forfeiture of his leased fishing boat, Mitsubishi L200 ute, 50 crayfish pots and other fishing gear.
- APNZ