Newspaper says Herald man's tone was condescending but he may have pricked thistle brigade into action.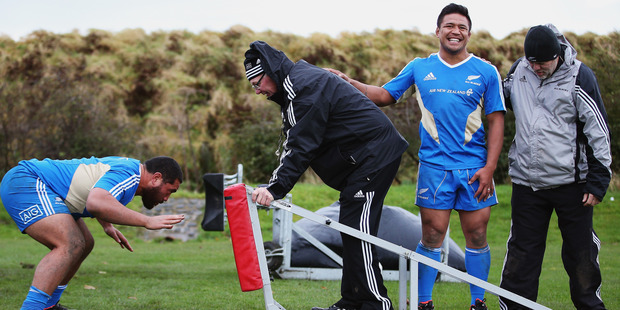 A war of words has broken out with a Scottish newspaper claiming critical comments by a Herald sportswriter will provide the motivation for the Scotland national team to finally break their All Black duck.
The All Blacks don't play Scotland until early Monday morning (NZT) but the off-field hostilities flared up yesterday when the Scotsman newspaper returned fire to a column by the Herald's senior sportswriter Chris Rattue under the headline "Kiwi writer labels Scottish players as 'cavemen of world rugby"'.
Rattue questioned why the All Blacks were bothering to play Scotland who were "so bad that even the rugby spin machine may have trouble whirring into action".
He said there was more merit in the International Rugby Board and the New Zealand Rugby Union arranging fixtures between the All Blacks and poorly served Pacific Island rugby nations.
The Scotsman fired back a shot of its own by saying matches against teams like Samoa, Tonga and Fiji would not generate anywhere near the same kind of revenue.
"The NZRFU will go home with several million extra dollars in their back pocket, however, as a result of the UK tour, particularly from the extra test against England, something which would not happen were they to play Tier Two sides.
"But in typically cynical fashion, Rattue also questions why Scotland are still granted access to an All Blacks test match."
Rattue said it was hard to remember the last time Scotland did anything interesting on a rugby field, describing their game as an ineffective one that belonged in a cave because their players had few skills.
The Scotsman said his tone was condescending but he might have given the Scottish players added motivation to finally beat the All Blacks.
"Rattue surprises no one by suggesting that even an All Blacks side missing key players will prove more than a handful for injury-ravaged Scotland.
"Not all Kiwis are as swollen-headed and arrogant and some of Rattue's criticisms are accurate, but if Scottish players wondered how they were really perceived in the Land of the Long White Cloud they have an idea now, and perhaps some fresh motivation to prove themselves again on the test stage."
Readers of the Scotsman responded, with one calling Rattue a "league bogan" while another said "anyone disagreeing [with] his analysis has not had the misfortune to watch Scotland playing over the last 10-15 years".
All Black attack coach Ian Foster was diplomatic when asked about Rattue's column, saying the All Blacks had "massive respect" for Scottish rugby. This was despite New Zealand planning to field all of their 32-man squad in the opening two games of their tour against Scotland and Italy.
The All Blacks have played Scotland 28 times since the two teams first met in 1905 and have never lost, though they have drawn twice. Scotland were yesterday paying $10 for a win at the TAB.
CHRIS RATTUE ON SCOTLAND
"They play a turgid, ineffective game that belongs in a cave because their players have few skills."
CHRIS RATTUE ON WALES
"Let's face it. Wales are rubbish. They are the village idiots of rugby union."
CHRIS RATTUE ON AUSTRALIA
"This Aussie team has too many powder puffs, particularly in the forwards. They just aren't hard enough."
CHRIS RATTUE ON IRELAND
"Those Irish salvos looked more like attempts to have something in the bank to save face with before the inevitable landslide buried them. Which it did."