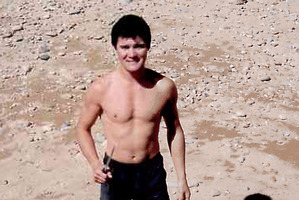 A Tauranga woman has vowed to keep fighting for action after her repeated pleas to a district health board over a former partner's mental wellbeing failed to get him urgent care and he took his own life.
In a damning report, the Health and Disability Commission has criticised Bay of Plenty District Health Board for breaching standards and failing to follow up the grave concerns T.P. Annette had for her partner, Peter Waaka, just days before she found him dead at her home.
The commission has ordered the DHB to review and improve its processes and training, and to apologise to Ms Annette.
But she told the Herald this week the recommendations did not go far enough - and plans to use the coronial process to address what she believes are the key factors that failed Mr Waaka, whom she described as a kind and intelligent man who "hated injustice".
Mr Waaka, 45, suffered from a severe personality disorder and tried to harm himself during a psychiatric assessment at the DHB's Community Mental Health (CMH) department in 2010.
Two days after being transferred to an intensive care unit, a psychologist discharged him from the mental health service and he was sent to Ms Annette's home without a follow-up assessment.
There was no communication with Ms Annette about his discharge and his GP received conflicting information about psychiatric follow-up arrangements from the ICU medical team and psychologist.
When a psychiatrist and nurse saw Mr Waaka several weeks later, the psychiatrist thought the nurse was Mr Waaka's case manager. But the nurse thought he was attending the assessment only as a "second observer" and that a case manager might be assigned afterward.
The psychiatrist put handwritten notes on Mr Waaka's paper file before going on leave but failed to communicate with Mr Waaka's GP or partner.
A nurse was assigned to be Mr Waaka's first point of contact in the event of a crisis, but a crisis plan wasn't documented in his clinical notes or electronic file, and there was no record of the nurse being present at the assessment.
When Mr Waaka went into crisis days later, Ms Annette desperately approached the DHB's Psychiatric Acute Community Team (PACT) three times in three days, telling them he was threatening suicide and that she had asked him to leave her home.
"I loved him, but I couldn't look after him," she said.
The team did not know Mr Waaka had recently been seen by the psychiatrist, or that there was a crisis plan which had assigned a nurse as a point of first contact.
Despite recognising the risk from Mr Waaka's relationship breakdown and eviction, no arrangement was made to review his case.
A few days later, when Ms Annette arrived at her darkened home and pulled the curtains to find her living room a mess, she knew "exactly what had happened". Mr Waaka was dead in a rear bedroom, having left a note.
Ms Annette soon lodged a complaint to the commission, which released its finding this week.
Commissioner Anthony Hill found the psychiatrist had breached the Code of Health and Disability Services Consumers' Rights because his handwritten notes of the assessment were inadequate to inform care.
The psychiatrist had also failed to communicate with Mr Waaka's GP and Ms Annette, and hadn't adequately ensured the crisis plan was documented on his clinical record.
The DHB also failed to take appropriate steps to involve Ms Annette in discharge planning, to clarify roles and responsibilities and to communicate between the CMH department, PACT and the GP.
Mr Hill recommended the DHB "review its operating procedures and policies" around staff training, clarification of roles, the allocation of cases, involvement of families and education around patients with severe personality disorders.
The DHB was implementing the recommendations, chief executive Phil Cammish said.
But Ms Annette questioned if they had addressed one of her biggest concerns - that no one made contact with Mr Waaka when she sought help in the days before his death. She blamed two specific clinicians and was seeking advice from her lawyer.
She believed her former partner would have wanted a better outcome. "I'm doing it for him because that's what he would want ... there's no doubt about it."