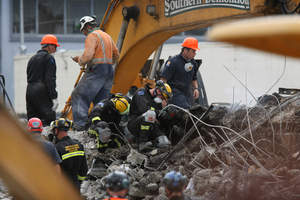 Specialist search and rescue gear did not arrive at the CTV Building collapse site until the day after it came down, killing 115 people, an inquest was told today.
Key listening equipment, designed to detect signs of life, was being used at the nearby PGC Building in Christchurch which had partially collapsed.
A lawyer for widower Alec Cvetanov, whose wife Dr Tamara survived the six-storey office block's total collapse on February 22 last year but could not be found alive, questioned today why the gear had not immediately been used at the larger CTV disaster site.
The revelations came on day eight of a coroner's inquest into the deaths of Dr Cvetanov of Serbia, Cheng Mai of China, Japan's Rika Hyuga and Jessie Redouble, Emmabelle Anoba, Ezra Medalle, Reah Sumalpong and Mary Amantillo, all from the Philippines.
All were students at King's Education School for English Language on the CTV Building's third floor and survived the collapse but could not be rescued from the wreckage.
Urban Search and Rescue (USAR) were using 'delsar' listening equipment and core drilling equipment with cameras at the PGC Building, where 18 people would die.
Several survivors were pulled free from the PGC debris in the hours after it came down in the magnitude-6.3 shake at 12.51pm.
But USAR engineer John Trowsdale, who was working at the CTV site, was asked by lawyers today why that kit was not available to him. Mr Trowsdale said it wasn't his decision to make, saying he was unaware of the bigger picture as he was too busy on the ground with the rescue efforts.
He said bosses would have needed to consider which site had a higher likelihood of finding people alive - and that would determine where the listening equipment and cameras should go.
It wasn't until the next day that delsar listening device was used on the CTV site, he recalled.
He was unsure if core drilling equipment with cameras was used on the first night.
Heavy machinery used at CTV to "delayer" the rubble by lifting off large beams and heavy slabs of concrete came with "some risks".
The inquest was showed videos taken on February 23 of a digger using a pincer tool to pick up slabs of concrete, which disintegrated when raised into the air and went crashing back on top of the rubble.
The Canterbury Earthquakes Royal Commission hearing into the CTV disaster heard evidence of how the building's concrete was brittle "like chalk" and questions were raised over its density.
Hulking steel beams were removed from the site as well as concrete floor slabs.
Nigel Hampton QC referred to his client Mr Cvetanov's evidence, where he spoke about seeing two diggers operating on the Madras St side at around 1.30am, 12 hours after the collapse.
He saw a beam being cut and it causing rubble above and below it to move, stirring up plumes of dust.
USAR engineers on the ground yelled at the digger driver to stop. It was feared that the removal of large pieces of debris could have compromised the position of people lying trapped below.
Mr Cvetanov said about 2.30am to 3am that night, a digger tried to drag the top floor concrete slab.
Once it was moved, three bodies were found.
Mr Trowsdale said he remembered that happening, but could recall being consulted before the action was taken.
He would have been the engineer on the ground in charge of inspecting the beams ahead of any removals, but could not recall assessing any beams.
The rescue engineer was unaware who was in overall charge of the site.
The inquest, before Coroner Gordon Matenga, continues.
- APNZ