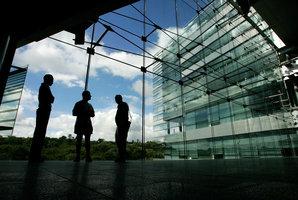 More than 100 students preparing for their final exams are being offered counselling after witnessing a young man fall to his death in the atrium of a six-storey building at the University of Auckland.
The first and ground floors of the Business School's Owen G Glenn Building in the central Auckland campus were filled with students studying during the final week of exams when the man, believed to be a student, fell from the sixth floor yesterday morning.
A lab supervisor, who asked not to be named, said there were about 20 students in the immediate vicinity when the incident happened about 11.30am.
"I've been here for five years and [something as shocking as this] has never happened," he said.
People who were gathered at tables, in labs or at the cafe in the atrium were alerted by a loud noise, he said.
Staff from a cafe on level one covered the man's body with tablecloths.
Many of the students were also on the ground floor sitting exams in sound-proof lecture theatres at the time of the incident.
He said while many people were at the building at the time, it was fortunate not to have happened during the busiest period.
Last night the Auckland University Students' Association posted on its Facebook page: "A reminder to everyone sitting exams that university counselling support is always available to help you deal with stress or anxiety".
The young man who fell to his death is believed to have been a student aged in his 20s.
The university offers free counselling services. The lab supervisor said grief counsellors spoke to about a dozen students immediately after the incident and later opened up a room in the building for anyone looking for guidance.
One history student, who did not wish to be named, said: "Our lecturer reminded us to keep a hold of yourself and remember exams are not the end of the world."
Where to get help
* Mental Health Services: 0508 625 662
* Youthline: 0800 376 633, text 234, email talk@youthline.org.nz
* Lifeline: 0800 543 354
* The Lowdown: text 5626, email team@thelowdown.co.nz
* Depression helpline: 0800 111 757.
- APNZ