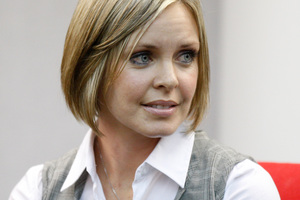 Anna Guy is excited about starting the next part of her life as she eyes a new career and home for herself and her four children.
The 31-year-old joined the breakfast shift at More FM Manawatu yesterday as part of a week-long internship with the station.
The internship marks a new phase of Guy's life as she takes the first steps in pursuing a career in broadcasting in Auckland, where her boyfriend lives.
"It's not the whole reason (for the move) but it's definitely part of the reason and that's going really well and he's a really cool guy," she told APNZ.
This year her ex-husband, Feilding farmer Ewen Macdonald, was acquitted of the murder of her brother Scott Guy, but was sentenced to five years in prison for other crimes.
Guy said she was looking forward to moving on with her life and was considering several career options including television, radio and motivational speaking based on her own experiences.
"I haven't said yes to anyone yet and am kind of just looking into it, (be)cause I want to make the right choice.''
She planned to make a decision on her career by the end of the year and move to Auckland after that with her sons and daughter, aged 4 to 9.
It was an exciting time, she said.
"I kind of feel like I've got a new lease on life. I just didn't know any different here and haven't really seen any other parts of New Zealand even. I didn't get out much I suppose."
While many may be surprised at her choice to pursue a career in media, it felt like a natural choice and a chance to move away from her past, she said.
"I really want to do stuff about other people and have fun with it. I don't want to do anything too serious and I definitely don't want to do anything about myself.
"I don't want to be defined by that (the past). I don't want to be 'that ex-wife of Ewen Macdonald'. I kind of want to hopefully drop that name."
Yesterday she was still buzzing about her first stint on radio.
"I really loved it. I kind of woke up and went, 'Oh no, what have I agreed to do?', but once I got in there and in with the guys, you feed off people. They're heaps of fun and made it real easy for me," she said.
Dressed casually in jeans and a fitted white top, staff were shocked when Guy arrived at the Palmerston North radio station for her first shift at 7am, as the programme director had kept it a secret.
"It was a surprise. I knew there was an intern coming in and we just thought it was a schoolgirl," said host Mike West.
She "melted seamlessly" into the show, he said.
On air, she expressed sadness at the shock death of high-profile defence lawyer Greg King - the man who successfully defended her ex-husband in his murder trial.
"I just thought it was so sad," she said of his death.
Guy also read the weather report, contributed to "Weekend Wars" with a story about running a red light while in Auckland
Programme director Darren Wallace was impressed with Guy's natural talent, saying she was well spoken.
"But by far the personality is the most important and that's what I see in her," he said.
Guy will today be dressing up with fellow hosts for the Melbourne Cup, and will also be telling listeners about her life in "Anna's daily diary," and during a movie review during the week.
All of the listener feedback from listeners had been positive, said Mr Wallace.
Guy wanted others know they could overcome any challenge and "do anything that you put your mind to".
- APNZ