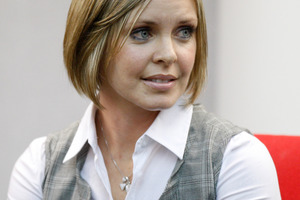 Anna Guy has expressed sadness at the death of high-profile defence lawyer Greg King during her first day on air.
The 31-year-old joined the breakfast shift at More FM Manawatu today as part of a week-long internship with the station.
On air, she and her co-hosts discussed the shock death of Mr King at the weekend.
This year Mr King successfully defended Miss Guy's ex-husband, farmer Ewen Macdonald against a charge of murdering his brother-in-law, Miss Guy's brother, Scott Guy
Miss Guy said she didn't really know Mr King and had talked to him only in the courtroom but was sorry to hear about his death.
"I just thought it was so sad,'' she said.
Macdonald was acquitted of her brother's murder but was sentenced in September to five years in prison for other crimes.
The internship marks a new phase of Miss Guy's life as she takes the first steps in pursuing a career in media in Auckland, where her boyfriend lives.
Her sister Nikki was looking after her four children while she was at the station.
Dressed casually in jeans and a fitted white top, staff were shocked when Miss Guy arrived at the Palmerston North radio station for her first shift at 7am, as the programme director had kept it a secret.
"It was a surprise. I knew there was an intern coming in and we just thought it was a schoolgirl,'' said host Mike West.
She had no problems fitting into her new role, he said.
"She melted seamlessly into the show - it's like she's been there forever.''
Miss Guy also read the weather report, contributed to "Weekend Wars'' with a story about running a red light while in Auckland and talked about her aspirations to pursue a career in broadcasting and possibly join the public speaking circuit.
"I suppose I've seen an opportunity now. I kind of think life is short, you might as well go for your dreams. I feel like I've got to a point in my life where I feel like I can do anything, and give it a go,'' she told listeners.
Programme director Darren Wallace was impressed with Miss Guy's natural talent for radio, which he saw hints of in her television interviews.
"I could see that she had that potential, she had the X factor.
"She's fairly well spoken. She's got a background in stage so she's been involved in drama in her school days and that so you can tell she's had that background. But by far the personality is the most important and that's what I see in her,'' he said.
Tomorrow, Miss Guy will be dressing up with fellow hosts for the Melbourne Cup, and will also be telling listeners about her life in 'Anna's daily diary', and doing a movie review during the week.
All of the feedback from listeners had been positive, said Mr Wallace, who was considering having them involved in a critique of Miss Guy's performance at the end of the week.